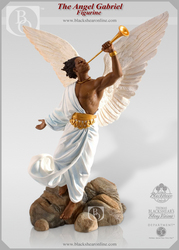 Ripon, CA (PRWEB) October 29, 2008
From the beginning of time, the job of an angel has been as God's messenger to mankind. It was the angel Gabriel who had the esteemed duty of proclaiming the birth of Christ. Now, highly acclaimed African-American artist, Thomas Blackshear announces the soon to be released addition to his Ebony Visions Nativity collection, The Angel Gabriel. Known for his emotionally powerful Christian and African-American themes, Blackshear's rendition of Gabriel is a true masterpiece. Collectors of fine art, black angels, Nativity scenes, African-American art and Thomas Blackshear's Ebony Visions™ collection will be thrilled with the unveiling of this exquisitely detailed angel. Just in time for Christmas, The Angel Gabriel can be pre-ordered today from Collector Hub and will be shipped in November 2008.
According to the Gospel of Luke, Gabriel was sent from Heaven to visit Mary and tell her that she had found favor with God. "And behold thou shalt conceive in thy womb, and bring forth a son and shalt call his name Jesus." -- Luke 1:31.
The second collectible in a four-year Nativity series from 2008-2011, this superbly designed figurine is second to none. Often referred to as the "Messenger of God," The Angel Gabriel is perched upon the rocks as he sounds his sacred trumpet. His wings fully extended, he is cloaked in white and holds out his hand as mediator of Heaven and Earth.
As with all of Thomas Blackshear's creations, this decorative piece is a work of art. With meticulous features, such as the sculpting of the individual feathers in his wings, the etched angles of his masculine face and the detailed form of his muscular arms, The Angel Gabriel figurine is sure to please even the most discerning collector.
"Imagine the beauty and spiritual significance to display The Angel Gabriel with Thomas Blackshear's first piece in the Nativity called The Holy Family," exclaims Larraine Covington, Community Director of Collector Hub. "The Holy Family, released earlier this year, perfectly captures the loving essence of Mary, Joseph and Baby Jesus."
Fine art collectors anxiously await the release of the two remaining additions to the Nativity in 2010-2011. Members of Collector Hub will be some of the first enthusiasts to witness the unfolding of the completion of the Nativity series, which will include the Wise Men and the Shepherds, whom Gabriel also visited.
An added bonus to collectors who purchase The Angel Gabriel figurine is the exclusive membership in Thomas Blackshear's official collectors club for 2009 called The Blackshear Circle™. Members of the club will receive announcements of Blackshear's numerous accomplishments, full color printed product catalogs and a subscription to Thomas's newsletter. They will also receive a personalized card to instate their official collector's club membership for 2009.
Thomas Blackshear, widely known for his dignified and uniquely powerful depictions of African-Americans, is one of the hottest contemporary collectible artists in the world. His imaginative portrayals are full of lifelike details that transcend stereotypes and resonate with universal truths. Thomas has helped bring the African-American experience to life in a way that has never been conceived of before.
A touring exhibit of his Black Heritage works premiered at the Smithsonian Institution's National Museum of American History. He has been honored with the coveted International Collectible Artist award. He has also been featured on The 700 Club, Ebony/Jet Showcase, and in The Saturday Evening Post. Blackshear has created works for Disney, Coca-Cola, National Geographic, the United States Postal Service and Universal Studios.
About CollectorHub.com:
Established in 2001, Collector Hub, the Internet's pre-eminent gathering place for fans and collectors of Thomas Blackshear, offers The Angel Gabriel and The Holy Family Nativity designs. Other Ebony Visions sculptures, fine art, gifts, collectibles and home decor designs are available through Collector Hub. As the only online community dedicated to Thomas Blackshear's art, at Collector Hub, viewers can also gather vital information from a trusted source, and become inspired as they interact with a family of collectors who share common interests. Come visit us on the Web at CollectorHub.com.
# # #