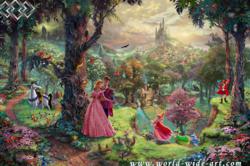 Thomas Kinkade's 'Sleeping Beauty' captures all of the romanticism and imagination that makes the Disney Dreams Collection so beloved and so widely known.
San Francisco Bay Area, CA (PRWEB) October 27, 2011
Well-known art gallery and custom conservation framing company World Wide Art, Inc. is pleased to announce the availability of "Sleeping Beauty" by Thomas Kinkade.
The painting centers on the love of one of the most timeless couples in all of fairy tale history: Princess Aurora and Prince Phillip. The prince and his awakened beauty embrace tenderly in the foreground of the painting, with their charming flora and fauna friends looking on. The animals and the forest itself come together to frame the couple in a celebration of their undying love and devotion.
The piece has been painted in vivid and vibrant colors, bringing the scene to life and transporting the viewer to a land of imaginative fantasy where the memories of one's childhood reside.
"Kinkade's 'Sleeping Beauty' captures all of the romanticism and imagination that make Disney stories so beloved and so widely known," said David Wilfong, spokesperson for World-Wide-Art.com. "This is a must-have painting for any Disney fan or romantic who cherishes the belief that 'love conquers all.'"
"Sleeping Beauty" is the eighth addition to Kinkade's popular Disney Dreams Collection, and is by far the most lavishly detailed work in the series to date. The collection celebrates many of the great moments from Walt Disney's timeless films. Kinkade calls these paintings "narrative panoramas" because he seeks to capture the whole story in just one still image, giving viewers a sense of their own dreams coming true in the process.
In the backdrop of "Sleeping Beauty," Kinkade has painted the climatic fight between the good Prince Phillip and the evil Maleficent, who is in her dragon form and looms menacingly above on a cliff in the distance. The artist has perfectly captured the tension and drama of the moment.
Kinkade has subtly painted a number of Disney characters into this piece, making it a work the viewer can interact with. The careful observer can identify the Beast from "Beauty and the Beast," Zazu from "The Lion King," Gus from "Cinderella," eight sets of hidden Mickey Mouse ears, Tinker Bell from "Peter Pan," Bambi, Gepetto from "Pinnochio" and Snow White.
Thomas Kinkade, the Painter of Light, is an expert at capturing light with glowing, realistic highlights. Few of his contemporaries are able to perfect this skill as Kinkade has in his work, and the artist also has the distinction of being known as America's most collected living artist.
In addition to "Sleeping Beauty," World-Wide-Art.com offers countless other new releases, limited editions and honored collections by today's top artists. For more information, please visit http://www.world-wide-art.com.
###