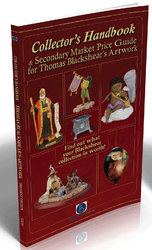 One of the driving forces that make Mr. Blackshear's art so attractive to collectors is its constantly escalating value on the secondary market
Ripon, CA (PRWEB) March 11, 2009
Helping to change the way that African-Americans are perceived, internationally acclaimed artist, Thomas Blackshear's Ebony Visions™ collection transcends race to reflect visions we all share regardless of the color of our skin. For the first time, collectors of Blackshear's works have a Handbook that chronicles the history of his collection from its introduction in 1995 until today.
Thomas says, "Ebony Visions reflects not only my own visions as a black man, but also unique visions of black people. Emotions like hope, love, tenderness, faith and serenity know no boundaries. My work is meant to transcend all racial and cultural lines, because in essence, the physical and spiritual expression in my sculptures are all part of the human experience."
You can unfold the history of Thomas Blackshear's Ebony Visions™ collection in an unprecedented First Edition Collector's Handbook and Secondary Market Price Guide, presented by Collector Hub, the internet's pre-eminent gathering place for fans and collectors of Thomas Blackshear.
If you've only recently learned of Blackshear's artistic genius, this Handbook is just the introduction you need. For avid collectors of his works, this Handbook validates the worth of collections such as Thomas Blackshear's Ebony VisionsTM, Blackshear's Ne'Qwa ArtTM ornaments, The Blackshear Jamboree ParadeTM, Blackshear's first artist doll, Star CatcherTM, Kente ClausTM Santa Claus, The Blackshear StyleTM boxes & busts, Clothtique® holiday designs, and his Starlite StudioTM busts.
Never before has a Handbook of this kind been offered anywhere, featuring full color product images and important tips on repairing and insuring your collectibles. It's complete with original prices and estimated secondary market values with easy- to-follow worksheets that will help you assess your investment. For those who just enjoy the works of Thomas Blackshear, you can learn about the artist's inspiration and how his faith in God keeps him motivated. You can even find out about signing events where you get the chance to meet and speak with Thomas. This Collector's Handbook is a "must have" for collectors or admirers of Blackshear's art.
"One of the driving forces that make Mr. Blackshear's art so attractive to collectors is its constantly escalating value on the secondary market," exclaims Larraine Covington Community Director of Blackshear Online. "The Storyteller, one of the most sought-after pieces of all time from the Ebony Visions Collection, has been sold out since 1996. It originally sold for $410 in 1995, and is currently trading on the secondary market for up to $5000."
About Thomas Blackshear - As one of the hottest contemporary collectible artists in the world, Thomas has helped bring the African-American experience to life in a way that has never been conceived of before. A touring exhibit of his Black Heritage works premiered at the Smithsonian Institution's National Museum of American History. He has been honored with the coveted International Collectible Artist award. He has also been featured on The 700 Club, Ebony/Jet Showcase, and in The Saturday Evening Post. Blackshear has created works for Disney, Coca-Cola, National Geographic, the United States Postal Service, Universal Studios; and these are just a few of his accolades.
About Collector Hub - Established in 2001, our goal is to continue to be the most comprehensive Thomas Blackshear community by providing the essential link collectors need to interact and share ideas and information, and conveniently and confidently purchase Thomas Blackshear products online. Most importantly, we realize that collecting is a very personal experience and that collectors appreciate a web site run by collectors who truly understand and care about the quality of the content. Come visit us on the web at CollectorHub.com.
All trademarks and brands are the property of their respective owners.
# # #