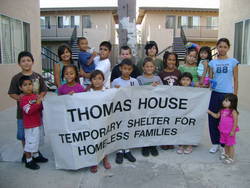 On the anniversary of our first year of association with ADS I must say we are very pleased with the support and financial assistance that has come to our program as a result of their promotion and processing of property donations on our behalf. They absolutely take care of everything for us - and send us a check each month - it is a great partnership
San Diego, CA (PRWEB) October 7, 2008
Action Donation Services® (ADS) Client Charity Director, Ted Cox, announced today, "We are pleased that over the past year we have been able to accept and process many vehicles, boats, motorhomes and other property for the Thomas House that when sold has generated income to help the homeless families with children that are served by Thomas House Temporary Shelter."
"Thomas House is a non-profit, temporary shelter available to homeless families of diverse cultural and religious backgrounds. They have a very effective program that assists families to be self-sufficient," added Cox.
Action Donation Services® accepts property donations throughout the United States for some of America's finest charities. Among its unique services that is beneficial to Thomas House Temporary Shelter and their donors is a program that strives to maximize the selling price of donations by "fixing up" or refurbishing donations whenever it will be beneficial to the charity - and selling retail when feasible (rather than wholesale) in order to maximize the return to the charity and increase the deduction available to the donor.
"On the anniversary of our first year of association with ADS I must say we are very pleased with the support and financial assistance that has come to our program as a result of their promotion and processing of property donations on our behalf. They absolutely take care of everything for us - and send us a check each month - it is a great partnership," says Thomas House Development Director, Charlotte Governale.
Among its unique benefits, ADS will for certain qualified property (usually higher valued auto's, boats, aircraft and/or RV's), offer the donor when desired a "partial cash payment" as an incentive to donate the property to the charity. Action Donation Services® has been picking up and processing donations nationwide for over seven years and they pickup qualified donations throughout the U.S.A. free of charge to the donor.
To donate your car, boat or other property visit: Thomas House Temporary Shelter. For more property donation information visit the Action Donation Services® website: http://www.actiondonation.org, or call toll free (866) 244-8464.
###