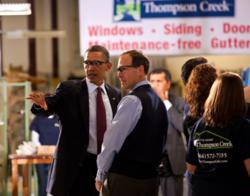 Total customer satisfaction is the driving force behind how every Thompson Creek employee performs their job
Lanham, MD (PRWEB) May 12, 2011
Thompson Creek Window Company, a leading home improvement replacement product manufacturer headquartered in Lanham, Maryland, announced today that the company has been awarded a 2011 Guildmaster Award for exceptional customer satisfaction from GuildQuality, a customer satisfaction surveying company. Thompson Creek was one of 154 home builders, remodelers, developers and contractors throughout North America recognized for their superlative performance.
Thompson Creek has implemented a very comprehensive customer survey system, where they measure and review all aspects of their performance. They ask their customers to review the initial home visit and consultation, installation, scheduling and final product. They have dedicated staff in place to monitor all survey responses. If any customer review receives a low rating, it gets forwarded to the manager of the responsible department for follow-up. This information is then reported back to marketing support with the resolution, which is entered into the database. Management studies the customer reviews on a regular basis. All of this attention to each and every customer comment has helped Thompson Creek to make improvements with 100% customer satisfaction as their goal.
According to Guild Quality, "Guildmaster Award winners have demonstrated their ability to consistently deliver an exceptional customer experience. Once a year, GuildQuality bestows upon a group of its members an award for exemplary quality and customer service. Award winners differ in their types of work and their price ranges, but all have a lengthy track record of exceptional customer feedback."
Rick Wuest, president and CEO of Thompson Creek, was proud to be honored as one of this year's Guildmaster Award winners. "Total customer satisfaction is the driving force behind how every Thompson Creek employee performs their job." Wuest remarked. "Winning this Guildmaster Award as a result from the feedback of our satisfied customers is validation that we are succeeding in our mission."
About Thompson Creek
The Thompson Creek Window Company is a privately owned and family operated manufacturer and installer of energy efficient home improvement replacement products. Founded in 1980, their roots were planted as a manufacturer of energy efficient, maintenance free vinyl windows. Since that time, they have evolved into one of the leading specialty home improvement contracting companies in the nation. Their product mix includes replacement windows and doors, vinyl siding and a clog-free gutter system. Thompson Creek employs a staff of over 300 people at two locations: their manufacturing plant and distribution center in Landover, Maryland, and their corporate headquarters and administrative offices in Lanham, Maryland.
About GuildQuality
North America's best builders, remodelers, contractors and real estate developers rely on GuildQuality's customer satisfaction surveying to help them monitor and improve the quality of their service.
About the Guildmaster Awards
Once a year, GuildQuality recognizes exceptional customer service with the Guildmaster Awards. Visit the Guildmaster section of the GuildQuality website to see information about all 2011 Award Winners and read about the award qualifications.
###