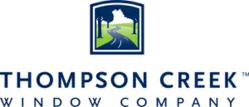 Thompson Creek Window Company is proud to be one of the few remodelers that make this esteemed list year after year...
Lanham, MD (PRWEB) September 18, 2012
Thompson Creek Window Company, the mid-Atlantic's leading home improvement replacement products company, today announced they have been named #11 on Qualified Remodeler's annual list of the top 500 remodelers in the United States. Since debuting on the nationwide list in 2005 at #133, Thompson Creek Window Company has advanced in the ratings.
Qualified Remodeler's Top 500 is the longest ongoing recognition program in the remodeling industry. Each year the magazine recognizes remodelers for significant and sustained success in terms of installed remodeling dollar volume, total years in business, industry association membership, industry certification, industry awards and community service. According to the magazine, "The economic and housing trends that began in 2008 have become the new reality for most remodelers—not just a temporary downturn but part of a trend that will likely endure for the foreseeable future…Clients are more demanding and more price-conscious than ever and come with a new set of expectations, a phenomenon driven in part by social media and the sheer amount of information available online…those who have weathered this storm—and others before it—remain optimistic and ready to meet challenges, armed in part with traditional values and principles but willing to apply those philosophies to a new set of circumstances."
Thompson Creek Window Company is proud to be one of the few remodelers that make this esteemed list year after year, a sure sign that the company has not only weathered the new economic reality, but has bucked tradition and grown incrementally.
Rick Wuest, president of Thompson Creek Window Company, said "I am thrilled to be in the company of such successful, national and regional remodelers and contractors. This achievement is a direct result of the dedication we have to our customers. The relationships we have developed with those customers, and the recommendations they share with their friends and neighbors, are paramount to our continued growth and success. Our inclusion in this list is a direct reflection of that success."
To download the complete list, please click here.
About Thompson Creek
The Thompson Creek Window Company is a privately owned and family-operated manufacturer and installer of energy-efficient home improvement replacement products. Founded in 1980, Thompson Creek Window Company began as a manufacturer of energy-efficient, maintenance-free vinyl windows. Since that time, Thompson Creek has evolved into one of the leading specialty home improvement contracting companies in the nation. The company's product mix includes replacement windows and doors, vinyl siding and a clog-free gutter system. Thompson Creek is headquartered in Lanham, MD with an 80,000 square-foot manufacturing facility in Landover, MD.