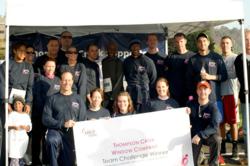 We all know someone whose life has been changed by breast cancer.
Lanham, MD (PRWEB) October 25, 2011
Thompson Creek Window Company, the mid-Atlantic's leading home improvement replacement products company, today announced they raised over $40,000 for the 2011 Susan G. Komen Maryland Race for the Cure, solidifying the #2 overall fundraiser position in the Maryland Team Challenge and the #1 leading fundraiser spot among like-sized company teams. Additionally, two of the company's executives, George Schaub and Brian Wuest, were the overall #3 and #4 individual fundraisers, respectively.
Over the past 3 years, Thompson Creek raised nearly $100,000 for Komen, and is especially proud of this year's stellar results. The company's 84-person team had been aggressively fund-raising for only one month, and is proud to be able to contribute so significantly, while remaining ever-aware that no amount is too small. 2012 plans are already underway, with even more aggressive goals.
Rick Wuest, president of Thompson Creek, said, "We all know someone whose life has been changed by breast cancer. Ten years ago, my mother's race for a cure ended after a thirteen-year battle with this terrible disease, which for me, makes this the most personal of all the charities in which we are involved. We appreciate the opportunity to contribute in such a substantial way to this worthy cause, and I thank all those who supported us in our fundraising efforts."
About Thompson Creek:
Thompson Creek Window Company (Thompson Creek) is a privately owned and family-operated manufacturer and installer of energy-efficient home improvement replacement products. Founded in 1980, Thompson Creek began as a manufacturer of energy-efficient, maintenance-free vinyl windows. Since that time, Thompson Creek has evolved into one of the leading specialty home improvement contracting companies in the nation. The company's product mix includes replacement windows and doors, vinyl siding and a clog-free gutter system. Thompson Creek is headquartered in Lanham, MD with an 80,000 square-foot manufacturing facility in Landover, MD. For more information, visit http://www.thompsoncreek.com, http://www.facebook.com/thompsoncreek or https://twitter.com/#!/ThompsonCreekMD.
About Susan G. Komen for the Cure® and the Komen Maryland Affiliate
Nancy G. Brinker promised her dying sister, Susan G. Komen, she would do everything in her power to end breast cancer forever, and in 1982, that promise became Susan G. Komen for the Cure. The Maryland Affiliate is part of the world's largest and most progressive grassroots network fighting breast cancer. Through events like the Komen Maryland Race for the Cure, the Maryland Affiliate has invested $15 million in community breast cancer programs since 1993. Up to 75 percent of net proceeds generated by the Affiliate stays in Maryland. The remaining 25 percent funds national breast cancer research, often taking place at Maryland institutions. For additional information, please call 410-938-8990 or visit http://www.komenmd.org.
# # #