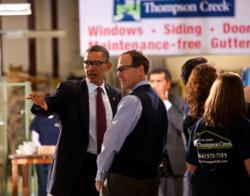 Our business performance indicates that there will always be a place for high-quality products and installation that helps customers to save energy and increase the value of their home
(Vocus/PRWEB) March 30, 2011
Thompson Creek Windows, based in Lanham, Maryland, has once again earned a spot on the Top 100 Manufacturers list compiled by Window & Door magazine. Thompson Creek has appeared on the list three times – every year since 2009.
According to Window & Door, annual rankings present North America's 100 largest manufacturers of residential windows, doors and/or skylights, based on sales volumes.
John G. Swanson of Window & Door, said, "We congratulate those companies that are on the list, for it is a considerable achievement to have survived, and now be in a position to thrive, looking at 2011 and beyond."
Window & Door magazine noted, "Thompson Creek kicked off 2011 with a visit from President Obama, who came to tour the factory and announce several economic appointments. The White House chose the company because it had taken advantage of the Administration's tax policies related to hiring and investing in new equipment, as well as the tax credit for energy efficient windows and doors. Founded in 1980, Thompson Creek manufactures and installs vinyl windows, serving homeowners in the Maryland, Virginia, and Washington, DC region. Operating from an 80,000 square-foot plant, Thompson Creek also manufactures windows for St. Claire Window & Door, which focuses on the multifamily market. Thompson Creek was on the Inc. Magazine 5000 list of fastest growing private companies in the United States for the third year in a row in 2010."
Rick Wuest, president and CEO of Thompson Creek, was proud to earn a spot on this year's Top 100 Manufacturers list. "Our business performance indicates that there will always be a place for high-quality products and installation that helps customers to save energy and increase the value of their homes. This performance would be impossible without our talented and dedicated employees and our total commitment to our customers." Wuest remarked, "Appearing on the Top 100 list for the third straight year demonstrates our commitment to manufacturing a top quality product and customer satisfaction."
About Thompson Creek:
Thompson Creek Window Company is a privately owned and family operated manufacturer and installer of energy efficient home improvement replacement products. Founded in 1980, their roots were planted as a manufacturer of energy efficient, maintenance free vinyl windows. Since that time, they have evolved into one of the leading specialty home improvement contracting companies in the nation. Their product mix includes replacement windows and doors, vinyl siding and a clog-free gutter system. Thompson Creek employs a staff of over 275 people at two locations: their manufacturing plant and distribution center in Landover, Maryland, and their corporate headquarters and administrative offices in Lanham, Maryland.
###