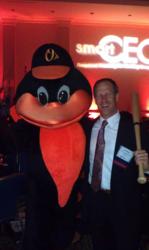 It is a true honor...to be listed among such successful companies that I admire and respect," said Rick Wuest, president of Thompson Creek Window Company.
Lanham, MD (PRWEB) January 24, 2012
Thompson Creek Window Company, the mid-Atlantic's leading home improvement replacement products company, today announced it has been honored with the SmartCEO 2012 Future 50 award. Baltimore SmartCEO profiles the 50 awarded companies, which collectively employ 11,000 people and generate over $3.6 billion in revenue, in the January 2012 issue of the magazine.
Future 50 is SmartCEO's largest and most highly anticipated program of the year, recognizing local fast-growing companies based on revenue and employee growth over a three-year period. Future 50 award recipients are not publicly ranked, but listed alphabetically. Over 120 nominations were submitted for review this year.
According to SmartCEO Magazine, "These 50 companies represent the future of the region's economy, are exemplary leaders in business and the community and each generate in excess of $5 million in annual revenue. They are steadily growing their companies while remaining true to their missions to provide exceptional products and services to their customers."
"We work in an industry that can be profoundly impacted by a struggling economy – and our growth in spite of that is directly correlated to our focus on 100% customer satisfaction. It is a true honor not only to be recognized for our growth, but also to be listed among such successful companies that I admire and respect," said Rick Wuest, president of Thompson Creek Window Company.
In addition to recognizing Future 50 winners, SmartCEO honors 10 companies in the Emerging Growth category. Emerging Growth honors fast-growing Baltimore companies that generate less than $5 million in revenue. For a complete list of all winners, visit http://www.smartceo.com.
About Thompson Creek
The Thompson Creek Window Company (Thompson Creek) is a privately owned and family-operated manufacturer and installer of energy-efficient home improvement replacement products. Founded in 1980, Thompson Creek began as a manufacturer of energy-efficient, maintenance-free vinyl windows. Since that time, Thompson Creek has evolved into one of the leading specialty home improvement contracting companies in the nation. The company's product mix includes replacement windows and doors,vinyl siding and a clog-free gutter system. Thompson Creek is headquartered in Lanham, MD with an 80,000 square-foot manufacturing facility in Landover, MD.
About SmartCEO magazine
SmartCEO magazine is a regional business publication for leaders of growing companies, providing features, analysis and case studies each month to educate and inspire the Mid-Atlantic's thought leaders. SmartCEO magazine's 60,000 print and digital readers range from CEOs of young, dynamic companies to established multi-generational family-owned firms.
###