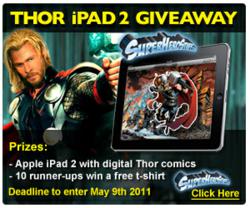 From now until May 9th, enter to win a Free Applie iPad 2 pre-loaded with Thor digital comics at SuperHeroStuff.com
Reading, PA (PRWEB) April 21, 2011
In anticipation of the upcoming Thor movie, SuperHeroStuff.com announced today that they will be giving away a free Apple iPad 2 (16GB, WiFi) pre-loaded with Thor digital comics to one lucky winner. They will also be giving out a free superhero t-shirt prize to 10 runner-ups.
The SuperHeroStuff giveaway runs until May 9th and there are two ways to enter: directly on their website at Thor iPad giveaway or on their Facebook page at SuperHeroStuff Facebook. You may enter once in each place and you must be 13 years or older to qualify.
The winner will be randomly chosen using random.org's random number generator on May 11th. The winner will be notified via email and an announcement listing the winners will be posted to SuperHeroStuff's Facebook page.
Summer 2011 is shaping up to be a big year for superhero movies, with Thor (released May 6th) being the first of four major superhero films hitting the big screen. Other superhero summer blockbusters include X-Men: First Class (June 3rd), Green Lantern (June 17th) and Captain America: The First Avenger (July 22nd).
SuperHeroStuff.com is the largest online retailer of superhero and comic book merchandise. They have been selling online since 1999 and have amassed a large social media following of superhero and comic enthusiasts. You can find out more about SuperHeroStuff and see what they have to offer at http://www.superherostuff.com.
# # #