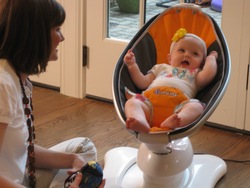 It's great to see Thorley Industries' growth get recognized
Pittsburgh, PA (Vocus) July 6, 2010
Thorley Industries, the juvenile products manufacturer who recently released the award-winning mamaRoo infant seat under the brand name 4moms, has been ranked by the Pittsburgh Business Times as one of Pittsburgh's 100 fastest-growing companies of 2010.
Thorley Industries, headquartered in Pittsburgh, is a four-year-old company that designs and manufactures juvenile products under the brand name 4moms. The use of low-cost electronics and robotics technology has enabled the company to create innovative products that set it apart from other juvenile manufacturers. The products are sold nationwide and include: the Cleanwater Infant Tub with built-in digital thermometer, the Goodnight Sleep Trainer, which helps parents teach their babies to sleep through the night, and the mamaRoo, the only infant seat that moves with natural motions like a parent's. The mamaRoo launched only eight weeks ago, and is now available in over 250 stores.
The Pittsburgh Business Times' "2010 Pittsburgh 100" awards program honors the area's fastest-growing companies. Rankings are based on a number of factors, including a company's revenue growth and the number of new hires it added over a certain period.
"It's great to see Thorley Industries' growth get recognized," says Matt Koket, owner of Georgeko Industries in Erie, PA, who has been working with Thorley Industries since 2005. "Their innovation and incorporation of electronics into their products have helped them develop niche products that give parents less to worry about and more time to focus on their babies. I fully expect they'll continue to grow."
The Pittsburgh Business Times will announce the city's #1 fastest-growing company at an awards ceremony on August 26 at the Duquesne Club in downtown Pittsburgh.
About 4moms and Thorley Industries
Frequently referred to as "the Apple of the juvenile industry," 4moms began with a focus group of five moms from Mt. Lebanon, PA, who inspired the company's name (but 4moms sounds better than 5moms, so one mother took the title "The Stealth Mom"). Their experience (they have fifteen kids between them; one has two, yes two! sets of twins) plus the expertise of a team of fourteen engineers, researchers, and developers gives 4moms its innovative edge in the field of juvenile product design.
4moms is a brand of Thorley Industries, Inc., a 4-year-old company that develops and markets products for the $7.0 billion juvenile products industry. 4moms' award-winning products are available at more than 250 of the top specialty retailers nationwide as well as several national web retailers. For more specifics on all 4moms' products, visit their website at http://www.4momsonline.com.
###