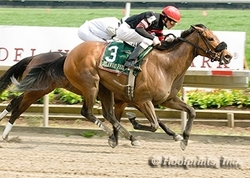 Baltimore, MD (PRWEB) May 6, 2008
Elite Stables (http://www.elitestables.com ), the High Percentage Thoroughbred Racing Stable, announced today that they are planning to have 6 horses running over the Preakness Stakes weekend at Pimlico Race Course. In addition, they have listed an eBay Auction, selling the right to Sponsor their racing team during the event of the Preakness weekend. The winning Sponsor will also receive 2 tickets to the Elite Stables Suite on both May 16th and May 17th. Click here to view the eBay auction site.
According to ESPN, horse racing has over 20 million fans that follow the sport and most everyday fans are males over the age of 30. On major racing days all types of people watch this glorious sport. There are races run almost every day of the year, from dozens of tracks, coast to coast. Horse racing has two 24 hour cable channels, TVG and HRTV, that cover the sport all year long. ESPN and NBC carry horse racing at various times throughout the year. Most of the more than 20 million fans watch the races from local off track betting areas. Over 100,000 people will turn out to see the races live. In addition, 7.2 million homes tuned in to the Preakness in 2007. ESPN and NBC will televise the Preakness.
Elite Stables will be bringing 3 year old Stakes-winning filly, Hadavision to Baltimore to compete in the Grade 3 Miss Preakness Stakes on Friday the 16th. Hadavision recently won the Peach Blossom Stakes at Delaware Park. Hadavision has 3 victories over 3 different tracks in 5 lifetime starts. The well traveled filly has made starts at Del Mar, California, Churchill Downs, Presque Isle (Pennsylvania) and Delaware. The 4 year old filly, ACINONYX is pointed for the Skipat Stakes that follow the Preakness Stakes. Four other horses, Tocqueville, Elite Wildcat, Out of my Way and Cee My Tizzy Run, are pointing for races between May 15th and May 17th at Pimlico for Elite Stables.
The Preakness weekend focus will be on Kentucky Derby (Louisville, KY) winner, Big Brown. Big Brown, Trainer Richard Dutrow Jr., Jockey Kent Desormeaux and IEAH Racing Stables are trying to capture the Triple Crown. His performance in the Derby over filly Eight Belles and the rest of the 3 year olds was dominant and carved his place in history next to 2007 Derby winner Street Sense. At the Preakness he will attempt to match the 2007 performance of Curlin. If he can achieve that feat, then he would likely point for the Belmont Stakes (Elmont, New York) and try to match the 2007 performance of Rags to Riches.
Sponsorship in thoroughbred racing is becoming very common. Many companies sponsor thoroughbred races, trainers, jockeys, even owners are seen with sponsors' logos. On May 3rd the Kentucky Derby NetJets sponsored all of the jockeys and UPS sponsored the Kentucky Derby and the winner Big Brown. Other notable thoroughbred sponsors are VISA, Dodge, John Deere, Emirates Airlines, CITGO, Grey Goose and YUM Brands.
About Elite Stables, LLC:
Elite Stables, LLC is a nationwide thoroughbred business that has won at 17 different tracks at nearly a 35% clip. In addition to the racing operation, Elite Stables has a large breeding operation with Broodmares in several states. Elite Stables owns the great 6 time Grade 1 winner GENTLEMEN (http://www.elitethoroughbreds.com/gentlemen.shtml ) and a percentage of several other stallions.
Contact:
Gary Sadowski, Director of Racing Operations
http://www.elitestables.com
1-800-220-1988
gary@elitestables.com
###