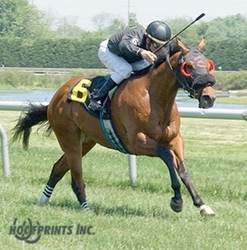 Las Vegas, NV (PRWEB) June 6, 2008
Elite Stables runners finished in the money in 11 of 17 starts in May and the stable wasted little time in getting off to a fast start this month when stakes placed filly, SWEET ROSEMAN prevailed for the second straight race by winning June 1 at Hollywood Park. Other highlights include ACINONYX earning black type on the undercard of the Preakness Stakes and ELITE WILDCAT breaking his maiden on turf.
ACINONYX will be competing in a stakes race on the same day as the Belmont Stakes. Once again her accomplishments will be overshadowed by Triple Crown contender BIG BROWN. HADAVISION is sitting on a race and is eager to improve her stakes form with another triumph. LUCKY MAMA, recently claimed from Bob Baffert, the two-time Kentucky Derby winning trainer, is looking to repeat her dominant winning form on June 8th at Hollywood Park.
Meanwhile, due to overwhelming demand for partnerships in proven winners, Elite is proud to announce that the stable has begun to offer shares in some proven stakes horses, and in fact, new members already have bought shares in two of our more promising East Coast horses, ELITE WILDCAT and ACINONYX. Look for more partnerships to be posted soon.
Also, Elite is proud to announce that the May 15-17 party at the Preakness in Maryland, as well as other endeavors on the East Coast, are being sponsored by http://www.youfellowship.com , while the West Coast sector of the stable is being sponsored by American Dental Organization.
Sponsorship in thoroughbred racing is becoming very common. Many companies sponsor thoroughbred races, trainers, jockeys, even owners are seen with sponsors' logos. At the Preakness Stakes NetJets sponsored all of the jockeys. UPS is sponsoring the Belmont stakes and BIG BROWN. Other notable thoroughbred sponsors are VISA, Dodge, John Deere, Emirates Airlines, CITGO, Grey Goose and YUM Brands.
About Elite Stables, LLC:
Elite Stables, LLC is a nationwide thoroughbred business that has won at 17 different tracks at nearly a 35% clip. In addition to the racing operation, Elite Stables has a large breeding operation with Broodmares in several states. Elite Stables owns the great 6 time Grade 1 winner GENTLEMEN (http://www.elitestables.com/media-video.shtml ) and a percentage of several other stallions.
Contact:
Gary Sadowski, Director of Racing Operations
info@elitestables.com
1-800-220-1988
###