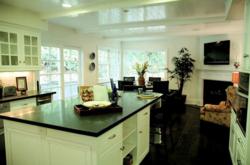 Thousand Oaks, CA (PRWEB) August 18, 2012
The kitchen is the heart of the home, it is the place where family and guests gather for food, drinks and conversation. A kitchen should be comfortable, functional and beautiful. Current trends show, homeowners are spending more time at home rather than going out, so the kitchen has become a hub for family life. Not all kitchens are created equal and some are not equipped to become the center of the home.
"A remodel can transform a kitchen providing warmth and comfort your whole family can enjoy, said Dave Lane, owner of Dave Lane Construction. Following, Dave shares some kitchen renovation trends he has observed over the past 12 months.
"Homeowners want more storage space in their kitchens," said Dave. With the popularity of what some refer to as "Costco pantries" homeowners are looking for a place to store their bulk items. Pantries can give adequate space to store can goods and dry goods, as well as small appliances. Custom shelves are being built to place pans and plates overhead, while floating shelves provide additional room for glasses. Kitchen islands can feature a clever storage area for a built in wine rack or wine cabinet and refrigerator.
Lighting should be functional while contributing to the comfort of the kitchen. "Customers are asking for large windows to be added into the design of their kitchens," said Dave. Adding windows can improve the view as well as provide natural light, offering a break on energy bills. Under counter bulbs provide task lighting and should be bright without causing shadows, halogen or fluorescent are the best to use. Hanging pendant fixtures add style and functionality. They are a modern and stylish solution for lighting over a kitchen island.
Casual and fast paced lifestyles have dictated the popularity of a kitchen eating or dine in area. Homeowners can opt for the modern look of a counter or breakfast bar. For those who have more space, a breakfast nook might be a better option. "Homeowners desire an inviting kitchen. We have even built some with a fireplace and entertainment area," said Dave.
For more information on this company please call, (805) 493-9229, or check them out on the Web at http://www.thousandoakscontracting.com
About Dave Lane Construction
Dave Lane Construction has been serving the Southern California area for over 30 years. They have been a member of the Better Business Bureau since 1997 with an A+ rating. Dave Lane Construction specializes in custom home designs and provides guaranteed satisfaction. They are proud to offer customers all the services needed to keep and improve the beauty and value of their home. Some areas of expertise include; custom home building, kitchen and bathroom renovations, room additions, window and door installation, and custom decks and patios. They service; Thousand Oaks, Calabasas, Malibu, Ventura, Los Angeles, Orange County and the surrounding area.