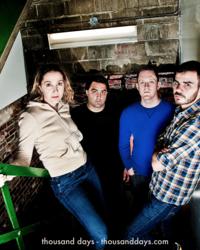 A varied collection of guitar-heavy pop music that brings back fond memories of girl-fronted '90s bands like Belly and Throwing Muses - Northeast Performer
Boston, MA (PRWEB) April 19, 2012
Thousand Days, a female-fronted guitar-heavy alternative rock band from Boston, will release their 4th CD, Radiate, in early 2012. Drawing references to Liz Phair, Hole, Belly, and Throwing Muses, Thousand Days and their lead singer Pardis Sabeti have received admirable exposure receiving coverage in CNN.com, Northeast Performer, and the Boston Globe. When she's not blowing audiences away with her sexy and powerful vocals, Sabeti is busy changing the world as a geneticist, named by CNN as one of the eight "Geniuses who will change your life."
Radiate, a 5 song EP, will throw you right into the first track, "Innocence," with a commanding guitar sound that begs for comparisons to U2's The Edge. "Disco" follows, delivering a killer riff that you can't get out of your head. "Neda"'s anthemic sound featuring Sabeti's haunting vocals will immediately grab you, and "Entrust" highlights the strength in Thousand Days' rhythm section. Radiate slows down to finish putting a spotlight on Sabeti's sweet vocals in "Set you Free." With Radiate, Thousand Days brings all of the dynamic, female-fronted, power-pop rock you loved about Letters To Cleo or Veruca Salt, but with a very fresh sound.
Thousand Days is Pardis Sabeti (vocals), Bob Katsiaficas (guitar), Matt Hayden (drums), and Dave Rand (bass, backing vocals). The band formed in 2002 and has previously worked with producers Neil McLellan (NIN, Prodigy), Anthony Resta (Collective Soul), Paul Kimble (Grant Lee Buffalo, David Gray), and Kurt Ballou. For their latest EP, Radiate, the band wanted a local Boston creation and had the pleasure of working with Matt Tahaney (Dropkick Murphys, Mighty Mighty Bostones) at Q-Division Studios and Brian Charles (Shelia Devine) at Zippah Recording.
You can learn more about Thousand Days and see their latest show dates on their website at http://thousanddays.com/
For any further information/interviews/exclusives please contact Melissa Zeigler(at)Powderfingerpromo(dot)com.