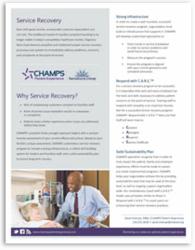 Cleveland, OH (PRWEB) June 25, 2013
CHAMPS Patient Experience kicked off its service recovery efforts recently with the introduction of a three-pronged approach to service recovery. This customized approach includes:
•a strong infrastructure
•a critical skill-building system for leaders and frontline staff
•a solid sustainability plan to ensure long-term success
CHAMPS understands that even with great service, occasionally customer expectations are not met. They developed their three-pronged approach to service recovery as an alternative to the traditional model of reactive complaint handling which is no longer viable in today's competitive healthcare market. CHAMPS believes organizations must become proactive and implement proper service recovery processes and systems to immediately address problems, concerns, and complaints at the point-of-service.
As part of CHAMPS' service recovery kick-off, they have released a one-pager outlining their three-pronged approach to service recovery as well as their Respond with C.A.R.E.TM program.
Contact CHAMPS Patient Experience today to learn more about partnering to assess and improve your service recovery program.
About CHAMPS Patient Experience
In partnership with Santalucia Group, CHAMPS Patient Experience offers a variety of services to enhance the patient experience. Led by Carol Santalucia, a recognized leader in patient experience with more than 30 years of expertise, CHAMPS offers outcomes-based services designed to create an optimal patient experience.
###