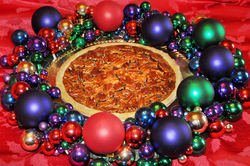 We focus on quality in every aspect of our work from using the best ingredients to producing the finest scratch baked good for our customers.
Houston, TX (Vocus) November 16, 2010
Three Brothers Bakery is known for its "scratch baking" of European style breads and confections, as well as its skill in creating eye-popping specialty desserts, such as the 8.5-foot high oil derrick cake which shot 3.5 feet of fire and chocolate "oil" made for Boots & Coots 30th Anniversary party. Yet the bakery's simple pecan pie is what is grabbing all the attention lately, as it was just named one of the five best mail order pies in America by Country Living Magazine in the article "Slices of Heaven" in the November 2010 issue, now on newsstands.
More than 40 pie shops from around the country were asked to send in "iconic" mail order pies, which were then sampled by Country Living staff. The Texas pecan pie (using whole Texas pecans) stood out and is now a media star. Other noteworthy pies that shared top honors came from Michigan (pumpkin), New Jersey (sweet potato), Oklahoma (apple) and Virginia (cherry).
Three Brothers Bakery, owned by Robert, Janice and Estelle Jucker, is well- known to Houstonians and stands out as something of a local institution. Robert is a fifth generation baker in the Jucker family; the bakery on South Braeswood is definitely a family affair with several Jucker relatives involved in its operation. Family and employees celebrated 60 years in business in Houston in 2009, along with the rebuilding of much of the bakery after extensive damage during Hurricane Ike.
"This is a wonderful and unexpected honor for Three Brothers Bakery to have our pecan pie recognized in a national magazine, especially since we almost did not send them, for my husband thought it was a college student calling to get free sweets. After telling me he was not going to send them, the next day he baked and sent the pies to Country Living," says Janice Jucker. "We focus on quality in every aspect of our work from using the best ingredients to producing the finest scratch baked good for our customers. Houstonians have supported us over these many years, and we thank them from the bottom of our hearts. We also give a big nod to Texas pecan growers for producing the best possible nuts for our pies."
Three Brothers Bakery has a long and fascinating history, with its origins in Chrzanow, Poland dating back to 1825. Later, the business and the lives of the Juckers were changed forever by World War II, when members of the family were imprisoned in Nazi concentration camps.
To read about Three Brothers Bakery's pecan pie, you can pick up a copy of Country Living at newsstands or check out http://www.countryliving.com. For more information about the bakery, log onto http://www.3brothersbakery.com. Click on their YouTube link from their site and watch "Sweet Memories" to get a better feel…. Now is the perfect time to order those holiday cakes and pies.
###