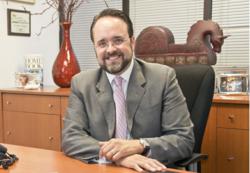 Three Tequesta on Brickell Key, offers an Exclusive Location and First Class Amenities!
Miami, FL (PRWEB) June 13, 2013
"The seller of the Three Tequesta residence was from South America," says Emilio J. Cardenal, Broker and CEO of Interinvestments Realty. "Recently, we've seen a steady increase in our local and national buyers, as well as many foreign arrivals coming from Latin America, especially from Brazil."
"The sale in the Three Tequesta Building was a remodeled 1,690 square foot 2 bedroom and 2.5 bathroom condominium facing south, and overlooking Brickell, Key Biscayne, Coconut Grove, Bear Cut and the Atlantic Ocean," describes Nicholas Quay, the listing agent.
"Brickell Key is a private island housing some of Miami's elite: debutantes and celebrities alike. All buildings in Brickell Key are full service with concierge style living, and are perfect for anyone who wants to live in style," continues Quay. "Gated condos in Brickell Key such as Three Tequesta are popular as vacation homes, part-time residences, as well as, workday homes for busy and traveling businesspeople who work in the area. Most of the residences on the Key have breathtaking views. The Island is so peaceful and tranquil at all hours of the day and night that you would never know it was so close to all the hustle and bustle of the busiest part of the city. Brickell Key is a diamond in the rough, the hidden gem in South Florida's mainstream business and destination capital."
"Three Tequesta is a newer full service building with a wonderful staff and amazing views," adds Quay. "What's not to love about it? From the security gate up the hill, to the valets, security guards and concierge; they will call you by name and get to know you as much as you'll allow them. The gym and pool overlook the Port of Miami, South Beach, Virginia Key and the Atlantic Ocean. The units boast large master bedrooms, two walk-in closets in the master bedrooms, second and third rooms. The layouts are fantastic- including one bedroom, two bedrooms, three bedrooms and the penthouses."
"When priced appropriately at market value or just over, units in Brickell Key will close in cash within 30 days, if overpriced they can sell in 78-120 days. The typical days on the market for a condo unit in Brickell Key during the last year have been 20-100 days, according to the local Multiple Listing Service," continues Quay.
"Three Tequesta currently has 13 units listed , ranging from $499,000 for a 1 bedroom, 1.5 bath, to $6M for a 4 bedroom 3.5 bathroom penthouse with 3,830 square feet. In an area where the inventory is scarce and limited, it is a great opportunity for purchasers to buy a quality residence which will appreciate and maintain its value," concludes Quay.
If you want to receive more information about new-construction and resale properties currently for sale in the South Florida marketplace, please contact our offices at the telephone number that appears in our contact information next to this communication.