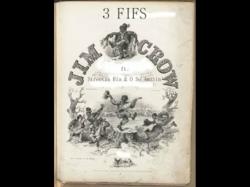 Miami, FL (PRWEB) April 30, 2013
Coast 2 Coast Mixtapes announce the release of the new video "Jim Crow" by Three Fifs. The video, presented by Coast 2 Coast Video Distribution, is now available for view on YouTube. The single features Three Fifs, Streetza Ria and O So Amazin'.
St. Louis rapper, Fifs has been gaining steam in the music industry despite being a new artist. As the oldest of six, he has always been a leader. Determined to be the voice in rap that promotes change and progress, Fifs uses inspiration from Tupac as he aims to create music believe in.
With an upbringing that took him from homelessness to living in the suburbs, he is able to relate to various audiences. His lyrics embody varied experiences which allow him to easily connect with listeners. Fifs graduated Magna Cum Laude from the Florida Agricultural and Mechanical University and was poised for law school until a spiritual awakening led him to a career in music. After deciding that music was his life's purpose, he wrote his first song and came to believe his words are meant to inspire and uplift generations of listeners like his earliest influence Tupac.
Since the release of his debut project "The Runaway EP" in January of 2012, Fifs has released videos for the singles "Dred Scott," "Dive in Deep," and "Whips & Chains." His projects have led to him increasing his fanbase. With his following release, "Birth of a Nation," Fifs went after the commercial market. The project featured West Coast emcee Mistah F.A.B. and fellow St. Louis upstart Streetza Ria and sold over 40,000 copies.
Fifs is a two-time 2nd Place Coast 2 Coast Online Live Events Winner, a two-time 1st Place Coast 2 Coast Live Events WInner, and has gotten airplay on DJ King Assassin's radio show. In the near future, Fifs will be featured on a compilation album helmed by Tory "Flossy the Boss" Harrelson, president of Mack 10's Hoo Bangin' Records. Fifs has also been selected to perform in the St. Louis Underground Music Festival (SLUMFest) and the St. Louis Fringe Festival. In the near future, Fifs will be launching his artists SharpShooter and O So Amazin' on his label Triangle Trade Entertainment Groups. Watch the video "Jim Crow" now.
About Coast 2 Coast Mixtapes
Coast 2 Coast Mixtapes are the most widely distributed mixtapes in the world, with over 100 million downloads/plays generated by over 200 volumes officially hosted by major artists. Coast 2 Coast has a solid reach in the new music industry with a digital magazine, DJ coalition, industry tips blog, yearly convention, and more. Coast 2 Coast Mixtapes represents a unique opportunity for artists of all urban genres, from major to indie. For more information, visit http://www.coast2coastmixtapes.com.
###