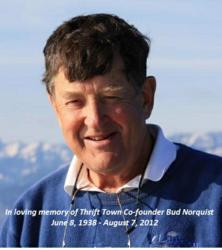 The joy and love he brought to us that touched our hearts, will forever live within them, and the memories we are all blessed to have of him have will continue to enrich us. ~Lane Steinmetz, Thrift Town Co-President
Roseville, CA (PRWEB) August 24, 2012
On August 7th, 2012 Thrift Town suffered the loss of a great leader and friend, Co-Founder Brandt "Bud" Norquist, after a courageous battle with lymphoma. Bud co-founded Thrift Town, along with his wife La Vey Norquist, and brother-in-law Steve Moore, in 1972. Their goal was to make Thrift Town a clean, well-lit, and organized place to shop with well-priced merchandise. They were whole heartedly committed to making an honest living, as well as helping to raise funds for charity. This same commitment, along with a "boots to the ground" work ethic was instilled in the next generation currently running the business. Bud's passion of making a difference every day will continue to be the heartbeat and driving force of Thrift Town.
Over the course of Bud's 40-years overseeing Thrift Town, countless lives and communities were touched. From the estimated 9,000 employees during the course of his reign, to the tens of thousands of individuals whom Bud inadvertently helped by raising over $250,000,000 for Thrift Town's charity partners, Bud embodied and taught what unifying a charity, a community, and a crew to enrich the world could accomplish. Putting people first, and not believing in short cuts, he earned respect, honored loyalty, strived for growth, and exhibited integrity, while encouraging people to maintain a healthy balance of family and adventure. All of these qualities have become the cornerstones and compass of Thrift Town's company, and culture.
Thrift Town Co-President Lane Steinmetz had this to say about Bud, "the joy and love he brought to us that touched our hearts, will forever live within them, and the memories we are all blessed to have of him have will continue to enrich us."
Bud's legacy lives on in Thrift Town employee and charity partner's hearts, and together will continue to make a difference every day in his honor.
Thrift Town has 15 stores locations in four different states. Their award winning clean, bright, and organized stores put out 4,000 gently used products daily, setting them apart in the thrift world as the premier thrift destination. Thrift Town is owned and operated by Norquist Salvage Corporation, which has spent over four decades dedicated to socially responsible recycling and prevents over 35-million pouds of product annually from being dumped into Thrift Town community-based landfills.