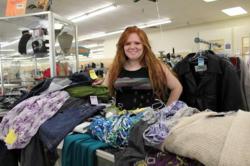 I was amazed at how many wonderful pieces of clothing they found and how inexpensive they were! Thrift town has always been one of my favorite places to find good deals. I will be shopping there much more often. ~Sara R., VIP Winner, Arlington, TX
Roseville, CA (PRWEB) September 28, 2012
It pays, literally, to be a VIP at Thrift Town. Last week, Sara R. from Arlington, TX was randomly selected from Thrift Town's VIP database to receive two $250 Thrift Town Gift Cards, one for her, and one for a friend, as well as personal fashion and home décor styling tips from thrift professionals. All this for simply being signed up in Thrift Town's VIP email marketing program.
Giving back to the community is nothing new for Thrift Town. Thrift Town prides itself on investing into not only communities in which their stores are located, but also in their customers. Sara was the most recent winner in a long history of Thrift Town VIP appreciation giveaways. Just a few months ago, Thrift Town VIP Kelly C. from San Antonio, TX, was also randomly selected from Thrift Town's VIP database and won $250 in cash, a $100 Thrift Town Gift Card, and a VIP backroom tour of how Thrift Town operates. Jennifer R. from Sacramento CA won $500 in cash and a $100 Thrift Town Gift Card at the beginning of the year.
Sara was treated like a VIP the minute she and her family walked through Thrift Town's Arlington, TX store doors. Met with great fanfare; applause, balloons, thrift inspired books, and photo ops, Sara was then whisked off to the dressing rooms where Thrift Town's very own fashionista blogger, Ms. Kari had racks of clothing prepared for Sara to try on. As stated above, Sara not only won $250 for herself to spend at Thrift Town, but also a $250 Thrift Town gift card for a friend. She chose her brother to share this special day with. For complete information on Sara's amazing VIP experience, visit Thrift Town's blog.
Sara had this to say about her experience, "I felt just like a doll. My wardrobe was in dire need of an update and Kari's fashion tips were just what I needed. I was amazed at how many wonderful pieces of clothing they found and how inexpensive they were! Thrift town has always been one of my favorite places to find good deals and now that I have a better eye for quality I'm sure I will be shopping there much more often. I still can't believe I won, I never win anything!"
Other benefits of joining Thrift Town's free VIP program besides being automatically entered to win their quarterly appreciation giveaways, includes exclusive savings coupons, newsletters, and sales alerts conveniently delivered right to your inbox. Thrift Town also hosts and awards prizes for quarterly and seasonal promotions that encourage customer and community participation such as their What a Find, Prom Attire, and Ugly Holiday Sweater, and recently launched HallowGreen Contest where customers compete across eight categories including best costume and décor using secondhand items. Click here for more information or to become a Thrift Town VIP. Next VIP giveaway drawing will be done December 31st, 2012.
In addition to treating their customers like VIP's, Thrift Town lives it's vision statement of being committed to making a difference every day, and has raised over $250,000,000 for their charity partners. Thrift Town's award winning clean, bright, and organized stores put out 4,000 gently used products daily, setting them apart in the thrift world as the premier thrift destination. Thrift Town is owned and operated by Norquist Salvage Corporation, which has spend over four decades dedicated to socially responsible recycling.