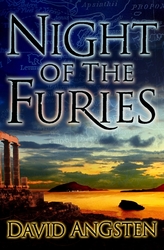 Los Angeles, CA (PRWEB) October 8, 2008
Los Angeles author David Angsten (http://www.davidangsten.com) has followed up his best-selling Mexican treasure-hunt adventure, "DARK GOLD", with a sequel set in the Greek Isles called "NIGHT OF THE FURIES" (Thomas Dunne Books/St. Martin's Press). The contemporary story is loosely based on "The Bacchae" of Euripides, the classic Greek tragedy of madness and horror. Angsten is a screenwriter and video director, and a senior story analyst for Atchity Entertainment International.
"...an instant author to watch." Rod Lott, Bookgasm
"...a stylish, intelligent writer..." Publisher's Weekly
"Fast, furious, sexy, and unique, David Angsten's 'NIGHT OF THE FURIES' turns a tour of the Greek Isles into a gripping story of ancient history and bloody retribution. This book demands to be read in one sitting," wrote James Rollins, New York Times bestselling author of The Last Oracle
In Angsten's exhilirating new thriller, wandering hero Jack Duran is off to the Greek Isles with his wild and woolly brother Dan and Dan's alluring girlfriend Phoebe, a young Dutch archeologist. The trio uncover a mysterious, ancient cult of Dionysus, and an orgy of sex and violence ensues.
"There are incidents in "The Bacchae" that are as shocking today as they were 2500 years ago, when Euripides wrote the play." Angsten says he hesitated to recreate the more outrageous scenes. "But finally, it was irresistible, because deep down, you know they're true."
According to the author, the socially-sanctioned madness of the ancient Bacchus cults is still visible in much of our contemporary world, from college binge-drinking and Burning Man raves to the mob hysteria of the recent cartoon-protests in Pakistan and Indonesia. The "Dionysian impulse," as Angsten calls it, is alive and thriving in the modern world. "We think of ourselves as more rational and enlightened than those ancient believers in the gods and myths. But the truth is we're just as susceptible to irrationality and mass hysteria as the civilized women of ancient Athens and Delphi, who once a year danced themselves into madness on the slopes on Mount Parnassus."
The author says many of the classic Greek tragedies were shaped like a cinematic thriller. "My favorite scene in Aeschylus's Oresteia is set in the Temple of Apollo at Delphi. The bloody-minded Furies are slowly awakening after having been cast into a spell by Apollo. The hero, Orestes, tries to escape before they arise to tear him apart. As the women slowly awaken, they moan and hum a tune in unison, searching for the scent of his blood. At the play's premiere, in 458 B.C., this scene struck so much fear into the audience, that a pregnant woman named Neaira suffered a miscarriage and died on the spot."
A former film and video director, Angsten created a sensational two-minute trailer for the book that's getting a lot of attention -- and not just from readers and writers, but from Hollywood producers as well. The mystery, the romance, the excitement of "FURIES" seems tailor-made for the movies. See the trailer and judge for yourself at Angsten's informative website, http://www.davidangsten.com.
Praise for David Angsten's debut novel, "DARK GOLD":
"Like Benchley's Jaws, David Angsten's debut will once again chase swimmers out of the water. Fraught with shivering suspense and a hauntingly eerie atmosphere, Dark Gold grips with feverish intensity. As literate as it is frightening. Read it with both a silver cross and a speargun at your side," wrote James Rollins, New York Times bestselling author of "Black Order" and "The Last Oracle".
"What's hidden inside (this book) will make your eyes widen," wrote David Morrell, New York Times bestselling author of "Creepers and Scavenger".
"(A) pastiche of Crichton, Lovecraft, Jules Verne, and Robinson Crusoe," wrote Entertainment Weekly.
"...a page-turner that will take readers back to the days when a good book meant you stayed up all night under the covers with a flashlight... Screenwriter Angsten's tall tale is for grown-up boys who lust for swashbuckling literary adventure set in tropical climes. Extra batteries for that flashlight are recommended." wrote Publisher's Weekly.
"'DARK GOLD' marks an awfully polished debut, making Angsten an instant author to watch," said Rod Lott, Bookgasm.
"I sat down with Angsten's thriller in the afternoon, and I was still reading at 2 a.m. 'DARK GOLD' builds to a frantic and explosive climax," said Royce Buckingham, author of "DEMON KEEPER".
"...taut and well-crafted. I couldn't put it down," wrote John Scott Shepherd, author of "Henry's List of Wrongs" and "The Dead Father's Guide to Sex & Marriage"; screenwriter, "Joe Somebody" and "Life or Something Like It".
"Sunken treasure, exotic locations, adventure and intrigue on the high seas, and a dark and disturbing undercurrent of mystery that H. P. Lovecraft himself would have been proud of, are all key ingredients of David Angsten's first-class rollercoaster-ride-of-a-novel," wrote Nick Redfern, author of "Three Men Seeking Monsters".
"Thrills and chills . . . sunken gold, black magic, sea monsters, a beautiful Brazilian in a bikini--what more could you want from a summer thriller?" wrote Kirkus Reviews.
"NIGHT OF THE FURIES"
By David Angsten
Fiction • Hardcover
320 pages • $24.95
ISBN: 0-312-37370-8
Publication: October 2008
Thomas Dunne Books
###