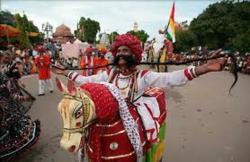 (PRWEB) August 21, 2012
India is not only about hill stations, mall roads, Goa, and other familiar travel experiences that travel guides would make us believe. It is also not about slum tours and a peek into the tough lives of the poor, although such tours often pique the interest of foreign nationals. For those who are looking to explore the adventurous and the unknown, India can offer plenty of delightful experiences, as a list released by Thrillophilia seems to suggest.
Thrillophilia, India's largest activity tour aggregator, recently released a list of 101 things to do India. The list features the known as well as the largely unknown. There are the usual Chandni Chowk tours in Delhi and gourmet tours of Lucknow in the list, apart from uncommon experiences such as a trek on a frozen river in Ladakh, a visit to world's only floating lake, a visit to tribal regions of Orissa and more.
When asked about the ideology behind the list, Abhishek Daga, Co-founder of Thrillophilia, said, "As a company dedicated to adventure travel in India, we are always looking to give people a different kind of holiday experience in the country. Adventure does not necessarily have to be about trekking in Himalaya or rafting in dangerous rapids. Adventure could be as simple as a ride in Mumbai's local train. With this list, we are trying to make people aware of all the different travel opportunities possible in India."
He adds, "This list isn't only intended for people who are visiting the country for the first time. It is also for people who have been living in the country ever since they were born. There are a lot of people out there who are unaware of something as beautiful as a bike ride in Rann of Kutch, or a wine tour in Nasik. In this list, we have a whole bunch of things to do in India that most of us would love to experience but just didn't know about. Of course, there are popular things as well, such as a backwater tour to Kerala, a royal trip to Rajasthan etc. It is about the best the country has to offer."
In the last 4-5 years, adventure tourism in India has grown by leaps and bounds. Most of it has been lead by people in the age group of 18-35 years, who are looking for different kinds of travel experiences.
With a list that features some really unconventional experiences, Thrillophilia seems right on track to give people what they are looking for. Its 400% year-on-year growth for two consecutive years just goes to show that it is quite a hit with the people of India already.