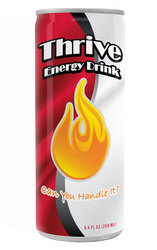 inch its way into the nation's top five trade marks by displacing a popular soda brand.
Denver, CO (PRWEB) June 11, 2008
Who says consumers can't have their energy drink and their flavor too? Thrive Energy Drink is proving them all wrong. The latest beverage to hit the thriving energy drink market, Thrive is changing the way consumers think about the energy drink market by providing them with both fringe benefits. Manufactured in the good old USA, Thrive Energy Drink is the latest beverage to hit the booming energy drink market. Available in both regular and low-carb formulations, Thrive is flavorful both on its own and mixed with other beverages, with just the right amount of kick to get its drinkers through the day. Retailers and consumers who would like to learn more about getting their hands on a tasty case of canned energy can visit Thrive Energy Drink online at http://www.thriveenergydrink.com .
According to BeverageDaily.com, in 2007 energy drinks were single-handedly responsible for boosting the U.S. beverage market. Outperforming all other categories, one sports drink even managed to "inch its way into the nation's top five trade marks by displacing a popular soda brand." Indeed, while total sales in the carbonated soft drinks category dipped by just over one percent during the year, "sales of energy drinks shot up by almost 50 percent." And market analysis predicts that no slowdown in that growth is anticipated.
That's good news for retailers who stock energy drinks, and Thrive Energy Drink is giving its resellers an even bigger incentive to encourage a Thrive Energy Drink taste test. That's because as a Thrive affiliate, they will earn a two-tier 15-% referral incentive. And unlike other affiliate programs that drop the incentive as the referral level decreases, Thrive offers the exact same referral bonus for both tiers.
"In these tough economic times, we wanted to reward those individuals who help spread the word about our product. That's why we devised our affiliate program to allow anyone to make some extra money. It's our way of saying thanks," explains Thrive Energy Drink vice president of marketing, Rich Marshall. That financial generosity couldn't have come at a better time given that the U.S. unemployment rate set a record high last month, jumping to 5.5 percent in May.
With its clean, refreshing taste, its boost of energy and its essential vitamins and minerals that help its drinkers recharge, and its door-to-door delivery, Thrive Energy Drink is positioned to practically sell itself. And with no frills or fancy marketing campaigns associated with it, Thrive is affordably priced.
For more information on the Thrive Energy Drink referral program, contact Doug Emerson toll free at (888) 442-7771. To learn more about the inspiration behind this new energy drink's great-tasting formulation, visit the manufacturer online at http://www.thriveenergydrink.com.
CONTACT INFORMATION:
Doug Emerson, Vice President of Operations
6160 S. Syracuse Suite 301
Greenwood Village, CO 80111
(888) 442-7771
info @ thriveenergydrink.com
http://www.thriveenergydrink.com
# # #