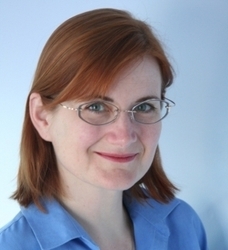 I am excited to be a part of an event aimed at helping educate businesses how to tap the power of the Web to drive new business and expand their footprint
Lanham, MD (PRWEB) April 27, 2010
PRWeb, the online news distribution service of Vocus (NASDAQ: VOCS), along with its premier partners, announced it is hosting an all-day educational conference for business owners and marketing professionals who want to harness the power of online marketing to make their business thrive, not just survive in today's rough-and-tumble economic environment.
To be held on May 12, 2010, "Thrive 2010: The Ins and Outs of Online Marketing" provides attendees with the knowledge, tools and techniques for formulating an e-marketing strategy that drives and converts site visitors and increases visibility with target customers. Attendees can register online at Thrive 2010: The Ins and Outs of Online Marketing.
"Thrive 2010" brings together some of the industry's most renowned online marketing experts and gurus like Anne Holland, founder of MarketingSherpa.com, Pete Prestipino, Website Magazine's Editor-in-Chief, Peter Shankman, Fox News and MSNBC Marketing Pundit and Founder of HARO, and Janet M. Thaeler, Online PR expert and author of "I Need a Killer Press Release, Now What?".
"Today it can be challenging for businesses of all sizes to be heard and break out of the pack," said Anne Holland, president of Anne Holland Ventures and Thrive Keynote speaker. "I am excited to be a part of an event aimed at helping educate businesses how to tap the power of the Web to drive new business and expand their footprint in today's competitive marketplace."
Speakers will walk attendees through both the basics and the advanced online marketing techniques and strategies needed to grow their businesses.
Attendees will learn to:

Create professional Web sites that drive traffic, capture information, and convert visitors into new business;
Foster close, profitable and loyal customer relationships through effective e-marketing techniques like preferred email offers, surveys and educational newsletters.
Harness new technologies like Search Engine Optimization (SEO) and Social Media to drive traffic, build credibility and expand their reach;
Influence target audiences, increase visibility and drive site traffic through the distribution of online news;
Secure press coverage to foster thought leadership, establish a competitive edge and drive new business; and
Craft successful sales and marketing messaging that resonates and relates to site visitors, converting a visitor into a buyer.
The price for the all-day conference is $99 and includes access to the all sessions, live chats, and online networking events as well as follow-up educational materials and tools. Attendees are also eligible to win a variety of giveaways including free websites and SEO services and free releases from PRWeb. To register for the event and for a complete listing of the sessions and conference content, please visit http://tinyurl.com/ThrivePR or follow us on Twitter at http://twitter.com/thriveprweb.
About Thrive 2010: The Ins and Outs of Online Marketing:
"Thrive 2010: The Ins and Outs of Online Marketing" is an all-day educational online conference designed for the business owner and marketing professional that wants to harness the power of online marketing to grow their business. Scheduled for May 12, 2010, the conference is comprised of sessions, live chats and networking events led by some of the industry's most renowned online marketing experts and gurus and can be accessed all from a desktop. Attendees walk away with the tools, tricks and tactics needed to implement an impactful online marketing strategy that helps businesses thrive, not just survive in today's economic environment. Sponsors include PRWeb, Website Magazine, HARO, Janet M. Thaeler, Network Solutions, ideaLaunch, Anne Holland Ventures, Duct Tape Marketing and iContact.
About PRWeb:
PRWeb is recognized as a leading online news and press release distribution service worldwide. Since 1997, PRWeb has been changing the way businesses, marketing departments and public relations firms think about press releases. PRWeb was the first company to develop a distribution strategy around direct-to-consumer communication and to build and offer a platform for search engine optimized press release distribution. PRWeb is an online news distribution service of Vocus, Inc., a leading provider of on-demand public relations management software. For more information, go to http://www.prweb.com .
About Vocus:
Vocus, Inc. (NASDAQ: VOCS) is a leading provider of on-demand software for public relations management. Our web-based software suite helps organizations of all sizes to fundamentally change the way they communicate with both the media and the public, optimizing their public relations and increasing their ability to measure its impact. Our on-demand software addresses the critical functions of public relations including media relations, news distribution and news monitoring. We deliver our solutions over the Internet using a secure, scalable application and system architecture, which allows our customers to eliminate expensive up-front hardware and software costs and to quickly deploy and adopt our on-demand software. Vocus is used by more than 4,800 organizations worldwide and is available in seven languages. Vocus is based in Lanham, MD with offices in North America, Europe and Asia. For more information, please visit http://www.vocus.com or call (800) 345-5572.
This release contains "forward-looking" statements that are made pursuant to the Safe Harbor provisions of the Private Securities Litigation Reform Act of 1995. These are statements that are predictive in nature, that depend upon or refer to future events or conditions, or that include words such as "may," "will," "expects," "projects," "anticipates," "estimates," "believes," "intends," "plans," "should," "seeks," and similar expressions. This press release contains forward-looking statements relating to, among other things, Vocus' expectations and assumptions concerning future financial performance. Forward-looking statements involve known and unknown risks and uncertainties that may cause actual future results to differ materially from those projected or contemplated in the forward-looking statements. Forward-looking statements may be significantly impacted by certain risks and uncertainties described in Vocus' filings with the Securities and Exchange Commission.
###