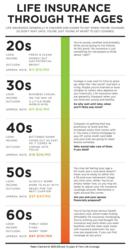 San Diego, CA (PRWEB) July 05, 2012
Matrix Direct, a nationwide leader in direct-to-consumer term life insurance products, today released a new infographic showing how the cost of term life insurance rises as time goes by.
The new infographic can be seen by visiting http://www.matrixdirect.com/about-us/insurance-education/life-insurance-through-the-ages. By sharing the infographic on Social Media or blogs, consumers can help Matrix Direct spread the word about the best time to buy term life insurance.
When they check out the new infographic, consumers can see just how the cost of buying term life insurance generally increases as they get older. When people are relatively young and healthy, they may be able to get the lowest rates and best coverage.
By waiting until later in life to buy term life insurance, consumers run the risk of not only paying more for the same coverage they could get for less when they are younger, they also may not be able to buy coverage at any price.
Life Insurance Through the Ages
The bottom line is: There's no reason to wait until later to buy life insurance. Consumers are more likely to pay more as they get older and at some point, may not be able to buy coverage at all. Term life insurance rates rise dramatically between ages 40 and 60, so if consumers have children, a mortgage, or other significant debts they don't want to pass onto their loved ones after they are gone, it's time to buy term life insurance.
Purchasing a term life insurance policy can be a great way to help financially provide for a spouse, child, or other loved ones long after a policyholder dies. For less money than most people spend on coffee or cable television each month, workers can help protect their family's financial future with affordable and reliable term life insurance.
In some cases, consumers who have serious medical conditions may be excluded from buying term life insurance. For those people, an Accidental Death and Dismemberment Insurance policy might provide some type of financial protection against serious injury or death.
About Matrix Direct
Matrix Direct, Inc. is one of the country's leading life insurance agencies. Over six million Americans have contacted Matrix Direct for the best term life insurance quotes. Matrix Direct, Inc. is a subsidiary of American General Life Insurance Company, Houston, TX and an affiliate of The United States Life Insurance Company in the City of New York, NY, NY. Agency services provided by Matrix Direct Insurance Services in CA (#0B57619), ME, MA, and OK; Matrix Direct Insurance Agency, Inc. in UT; and Matrix Direct, Inc. in AR(#246412) and all other states, except SD.