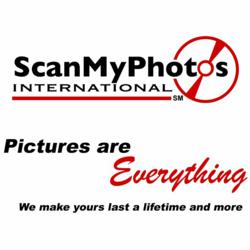 Nearly 45% of all our photo digitization orders worldwide are linked to people participating in 'Throwback Thursday'.
Irvine, CA (PRWEB) June 28, 2013
A sizzling hot trend in social media happens every Thursday. From celebrity baby photos to average social networking fans sharing yesteryear family celebrations, millions of people are having fun and getting nostalgic by sharing their decades of rediscovered legacy photo snapshots during 'Throwback Thursday' ["#TBT"].
Even businesses are adopting this online sensation by sharing long forgotten photo flashbacks when their companies were just starting out. Casinos in Las Vegas are a fun example to view legendary buildings of yesteryear and famous luminaries on immense vintage marquee signs which are no longer with us.
"Posting old pictures from your childhood to 1980's-style fashions on leading social media platforms is easy, just include the "TBT" hash tag. The challenging part is how to digitize photos and 35mm slides, especially when you have thousands; that is where ScanMyPhotos.com is playing an integral role.
"Nearly 45% of all our photo digitization orders worldwide are linked to people participating in 'Throwback Thursday'," said Mitch Goldstone, president & CEO, ScanMyPhotos.com. "There is an urgency to digitize analog photos to preserve all those breathtaking pop culture and family memories. The number one new reason is because of 'Throwback Thursday'," according to Goldstone who along with ScanMyPhotos.com Co-owner, Carl Berman's company has digitized hundreds of millions of images.
Customer order prepaid fill-the-box photo scanning on the company's E-Commerce website to simplify the scanning process. This includes free three-way shipping and a catalogue of other popular add-on scanning services.
Millions of nostalgic photo memories can be easily viewed now by simply surfing the leading social media networks and searching for one of these two popular hash tags: "TBT" or "Throwback Thursday."
About ScanMyPhotos.com:
Founded in 1990, ScanMyPhotos.com, a division of Photos Etc. Corporation operates a nationwide and international E-Commerce photo scanning service headquartered in Irvine, CA and specializes in professionally converting analog photos to digital format using an innovative scanning technology that the company pioneered. The company also offers negative scanning, 35mm slide scanning, APS film cartridges, photo restoration and video transfer services to preserve generations of memories.
For more information: http://www.scanmyphotos.com
Contacts:
ScanMyPhotos.com
Mitch Goldstone, 949-474-7654
President & CEO
support(at)scanmyphotos(dot)com
###