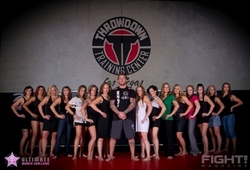 Our Training center provided authenticity to the program as it is the home of many well known top MMA fighters like Forrest Griffin, Evan Dunham, Amir Sadollah, Matt Riddle, Todd Duffee and many others.
Las Vegas, NV (PRWEB) September 7, 2010
This thirteen episode reality TV show goes live on September 25th and features Educational and Instructional programming showcasing sixteen ultimate women dedicated to the sport of Mixed Martial Arts who overcome extraordinary challenges each episode. These ultimate women are immersed in real life challenges surrounding everyday issues that many Americans face, such as obesity, education and literacy, homelessness, foster care, cancer and disabilities. Each physical challenge will reward the winner, or penalize the loser, while imparting educational information on nutrition, fitness, general health and wellness, financial management, and other relevant information. All challenges will be both entertaining and enlightening and will ultimately benefit a charitable cause whose works will be highlighted. The charities will be presented with a donation in the name of the contestant who wins the challenge.
The program is hosted by Joanna Krupa and Amber Nichole.
Joanna was named the World's Sexiest Swimsuit Model and has been featured on many magazine covers including MAXIM® and PLAYBOY®. She also appeared in Dancing with the Stars®. She is currently a top judge in Poland's Next Top Model.
Amber Nichole is a former UFC® Octagon Girl. She has had numerous roles as a host as well as an actress in movies, TV shows, commercials and has also been featured in many top magazines. She is a Las Vegas Celebrity and her likeness appears on several billboards in and around Las Vegas and Los Angeles.
"Although we embraced this opportunity on many levels, it was the charitable approach that really resonated with Throwdown" reported David Vautrin, CEO Throwdown Industries. "The series also features The Throwdown Training Center in Las Vegas, its leadership, trainers and Throwdown techniques. Our Training center provided authenticity to the program as it is the home of many well known top MMA fighters like Forrest Griffin, Evan Dunham, Amir Sadollah, Matt Riddle, Todd Duffee and many others. The UWC program is led by Pro-Fighter John Wood. "John is an incredible mentor, leader and coach who really connects with athletes irrespective of their gender."
"Throwdown and its team have been paramount in the production of the Ultimate Women's Challenge," commented Lyle Howry, President of LHP entertainment. "Although we had initially considered filming this production in Hollywood, we determined that for the first season we would utilize one of the nation's top MMA Training Centers while utilizing Las Vegas as the setting for many of the challenges."
The Throwdown Training Center has been featured on many programs and publications such as Fight Magazine and MMA Business. Many top networks have been by the Throwdown Training Center over the last ten days looking to capture a sneak preview of this impending fall program. The Throwdown Training facility has classes that include many professional fighters as well as MMA enthusiasts, kids programs, women's self defense classes and also aspiring professional MMA fighter training. The training center features a full cardio / weight room, a diverse MMA schedule, a grappling center, and a 30' cage. All Instructors have active or former backgrounds in professional competition and training, with styles ranging from boxing, Muay Thai, Brazilian Jiu-Jitsu and Olympic Wresting.
About THROWDOWN®
Throwdown is a pioneer in Impact and Action Sports product development and an industry leader in combat sport innovation. Founded in 2003, with its "DNA" in Mixed Martial Arts, the company is one of the leading brands in the multi-billion dollar Impact and Action Sports Market with a full portfolio of cages, racks, rings, performance gear and apparel. Throwdown's products are designed with superior performance, innovation and authenticity to empower athletes and provide them the competitive edge to prevail… ANYTIME ANYPLACE.™ For more information on Throwdown, please visit http://www.Throwdown.com or call 877-847-9396.
About LHP Entertainment
LHP Entertainment is a film and television company with over 25 years of experience, currently in development and production on multiple projects. LHP, which was founded by CEO Lyle Howry from Hollywood, California, has strong ties to television and theatrical distribution as well as finance, talent and many other sources. Lyle's entertainment career began in 1985 as an actor on the award-winning television series "Moonlighting". During his acting years, a side business led to the discovery that he had a passion for finance and a gift for packaging. This new direction took him to London, Hong Kong and Taiwan to close international finance and motion picture investment deals. Lyle Howry has been associated with the entertainment industry for more than 25 years, including nine years in corporate finance, as well as specializing in studio negotiations.
To find out more please visit: http://www.UltimateWomenChallenge.com
Contact:
media(at)throwdown(dot)com
877.847.9396
###