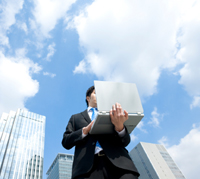 Ready to outsource the pain of FTP? Register for Thru's webinar to find out how easy it is to get cloud-based MFT up and running throughout your organization, so you can focus on the business at hand.
Irving, TX (PRWEB) May 26, 2011
Thru, Inc., recently named a Cool Vendor by Gartner Research, and the leading provider of globally networked Managed File Transfer as a Service, or MFTaaS, today announced the kickoff of a June 2011 webinar series to showcase how companies are outsourcing the pain of FTP so they can focus on game changers that drive innovation and competitive differentiation. The webinar will focus on how companies who move to the cloud with Thru's MFTaaS immediately lower application costs, and even find fast ROI by billing transfer and storage costs back to their clients. In addition, a weekly noon CST webinar for companies who are interested in seeing a deeper dive of Thru's solution can talk live with Thru support and see a demo that corresponds to their questions.
What: Thru MFT Webinar Series
Click on the lniks to register:
Weekly Tues webinar:
Outsource the Pain of FTP: Focus on Building Competitive Edge
Weekly Wed webinar:
Ready to move FTP to the cloud? Talk Live with Thru MFT Support!
About Thru, Inc.
Thru, Inc., the leading cloud-based enterprise managed file transfer as a service (MFTaaS), moves extremely large files with no downtime. Files go rapidly and efficiently, whether across the street or around the globe and without the tremendous IT overhead of deploying and managing global server farms and high bandwidth internet connections.
For more information, go to http://www.thruinc.com, call 1-(800) 871-9316 or (214) 496-0100, or email info(at)thruinc(dot)com, subscribe to the Thru blog at http://thrumft.wordpress.com/, follow Thru on Facebook at http://www.facebook.com/pages/Thru-Inc/179418792101092 and Twitter at http://twitter.com/#!/ThruMFT.
###