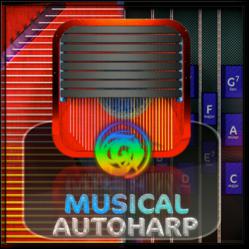 We wanted to give musicians a full digital recreation of the Autoharp as It truly is a wonderful instrument
West Bloomfield, MI (PRWEB) August 10, 2012
Musicians have plenty of options for apps on the iOS platform, from guitars to drums, many musical instruments are well represented except one.  Thumb Wizards have made their popular iPad app, Musical Autoharp, universal with support now for iPhone and iPod Touch.  While the Autoharp was created over 130 years ago, it is now playable by iOS device owners any time they wish to practice their Autoharp skills.
Until now, playing an Autoharp was a hard task, even for the most devoted musician.  No longer must interested musicians carry a cumbersome musical instrument.  With Musical Autoharp, much like what happened with guitars and drums, having to have access to the physical instrument is a thing of the past.  At $0.99, Musical Autoharp is the economical choice for budding Autoharp fans versus $200+ for a physical unit which would require expensive tuning from time to time.
"When we first set out to recreate the Autoharp, we looked at what was available and concluded that there was a dire lack of apps that catered to fans of this unique instrument.  We wanted to give musicians a full digital recreation of the Autoharp as It truly is a wonderful instrument that I was fortunate to be able to enjoy playing while visiting my Grandmother during my youth," says Mark Perkins concerning the origin of Musical Autoharp.
Musical Autoharp features 36 strings, the ability to strum chords, tap on single strings, and the much needed ability to quickly pick, and deselect a chord effortlessly.  Novices will enjoy the added benefit of having 15 chords that can be played with illumination. Illumination that alerts the user to the chord selected and provides visual feedback on the chords status of being selected.  The app is available to download today on the iTunes App Store.
About Thumb Wizards:
Led by Mark Perkins, CEO and founder and lead developer, Thumb Wizards keeps residence in West Bloomfield Michigan.  Amanda Kremhelmer brings both artistic and creative insight while Brian Ostreicher handles the musical engineering challenges of turning a physical instrument into an accurate digital app.
Thumb Wizards is known for popular apps such as Sudoku Puzzle Packs and Sudoku Packs 2, Thumbstruments, Tapstruments, Finger Bells & The Speakin Apps, various entertainment based accent and dialect translation apps.  For more information contact http://www.ThumbWizards.com or email contact(at)thumbwizards(dot)com.
###