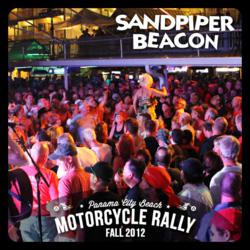 As the original home of the Thunder Beach rally, bikers have grown to expect the best entertainment from the Tiki Bar.
Panama City Beach, FL (PRWEB) September 17, 2012
The Thunder Beach Motorcycle Rally started in 1999 with a small group of motorcycle enthusiasts from Georgia riding into Panama City Beach FL each year. The tradition was to ride along Panama City Beach's beautiful coastline during the day, and unwind in the World Famous Tiki Bar located at the Sandpiper Beacon Beach Resort during the evenings.
12 years on, and the event has grown significantly. The business where it all started (Sandpiper Beacon's Tiki Bar) continues to lead the way with live events and an incredible entertainment schedule. Interestingly, the Tiki Bar continues to provide all this entertainment to everyone completely free of charge, with no cover or door charges to get in to the bar.
"As the original home of the Thunder Beach rally, bikers have grown to expect the best entertainment from the Tiki Bar" said Keith Burrelle, General Manager of the Tiki Bar. "Since day one, we've been heavily invested in ensuring this special event attracts more visitors to our beautiful destination each year. Panama City Beach is already well-known for family summer vacations, and Spring Break, but we have so much more to offer all year round."
The 12th Annual Thunder Beach bike rally officially kicks off in the Tiki Bar on Tuesday, October 9th with the internationally known, all-woman country and rhythm and blues band from Nashville, Tennessee - Mustang Sally. Mustang Sally were described by two-time CMA Personality of the Year, and Country DJ Hall of Fame inductee J.D. Cannon as "One of the most amazing acts I've ever had the privilege of seeing."
Also taking center stage at the Tiki bar, will be a band from Tallahassee, FL whose career includes opening on tour with mega rock band KISS. "ELI have been performing in the Tiki Bar for years. Their high-energy, concert-like performances draw a great crowd," said Patrick Hazard, General Manager of the Sandpiper Beacon Beach Resort.
The entertainment doesn't stop there. Other bands scheduled to perform include Big Engine, and Joe Santana's Kingfish. Both have a strong following around the bike rally circuit, and have been performing for years. The Tiki Bar will also offer other fun and festive activities including painting, dancing, and all-around-beachfront fun! "Our intention is simple, to provide a fun and exciting atmosphere for our guests" according to Burelle.
Panama City Beach is situated on 27 miles of sugar-white sand beaches bordering clear, emerald-green waters where the Gulf of Mexico and St. Andrew Bay converge. With more than 300 days of sunshine annually and attractions such as St. Andrews State Park and Pier Park, the region has long been favored by travelers seeking an affordable beach vacation with year-round offerings for families, couples, groups and adventure-seekers. These include championship golf courses, spas, sporting events, award-winning dining and diverse recreational activities. Panama City Beach recently opened the new Northwest Florida Beaches International Airport, offering non-stop flights on Delta Airlines and Southwest Airlines.
About the Sandpiper Beacon Beach Resort
The Sandpiper Beacon Beach Resort is a family-friendly Hotel and Resort in Panama City Beach, Florida. Known as the "Fun Place", the Sandpiper is committed to value; offering so many activities, amenities, and so much entertainment, that guests never have to leave during their vacation. For more information, call 800-488-8828 or visit http://www.sandpiperbeacon.com.