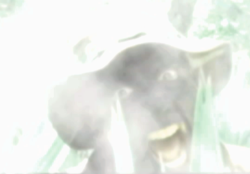 We bring our game and we make it happen.
New York, NY (PRWEB) October 23, 2012
Reps here announced today that Internet personality Thunder "Dollar" Bill has topped 500,000 views with the Give 'Em Hell video on YouTube.
--------
Hearing the news, Thunder "Dollar" Bill said:
"Finally. A guy comes along who can set the world straight on a few things. First of all, why be "nice" when you can Give 'Em Hell? Nice is fuzzy. Nice finishes LAST! Sometimes, you just gotta step up and get it done. Right. Face the mission before the mission faces you. And, what's all this talk got to prove, anyway? Talk. Talk. Talk. Nothing accomplished. We take action. We bring our game and we make it happen. Some guys can't take it. They go home all wussy and stuff. That leaves us. The ones who know it's their job to complete - their job to take care of. We got a country, here. Stand and defend. Or, what? What's the option? There is no option. We got a whole lot more where this came from. And, we're gonna serve it up – best we can. So far, people seem to like it. Maybe - because there's others - like us. Dedicated. Dedicated to protect. To protect and serve. And - take care of those who sacrificed.
"We're watching the whole world and the world is watching back. Write about that – all you journalists with your pens and your keyboards. You got something to fill those spaces – all the spaces that they got on the Internet and wherever. Not much room in news anymore. So, fill up your cyberspace with something that counts. Something strong. Like the time capsule in space: make it count. So, if - many years from now - someone stumbles across your thing - they'll say there was something to it. Something to this whole bit. We stood for something. We fought for something. Things mattered. Yeah. Things mattered. What? Sit around and pick away at stuff? Naww. Come on! While the whole thing just slips right by? No wonder people are bored. No wonder people don't even bother looking - anymore. Fed up. Can't take it. Had enough. Ready to move on. Move up. Fight for what's right. Me? I'm Thunder "Dollar" Bill. It's not a mission – it's a way of life. Live it."
---------
To play the Give 'Em Hell Video click here.
Give 'Em Hell is the title track off the Greetings From Hell album - downloadable at the Official Thunder "Dollar" Bill site.
Contact: thunderdollarbill(at)yahoo(dot)com for info, interviews, shows, appearances, and more. Or, call the Thunder Hotline at 212 570-0708.