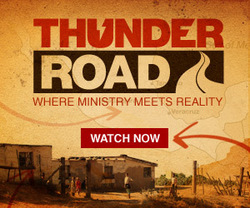 This episode is a first for TV
Indian Land, S.C. (Vocus) October 8, 2008
Ben Cerullo, founder of Ben Cerullo Ministries, today announced that he will launch a ministry-focused reality TV series called "Thunder Road." The program will debut on INSP - The Inspiration Network, the fastest-growing inspirational network in the U.S., on Saturday, October 18th at 11:00 p.m. EST. The series follows the life and ministry of Cerullo as he travels to some of the most underserved regions of the world to help the sick and hopeless.
"'Thunder Road' represents my life and the lives of so many people because it's where faith meets reality," said Cerullo. "This show establishes an entirely new model of how faith is presented on television. People will see me and my team going real places, doing real things, and experiencing real problems. They'll get a glimpse of the miracles and power of God on display at our crusades. And they'll also see His power revealed not just in miracles but in countless practical ways."
The first episode of "Thunder Road" takes viewers to a ministry event in Mexico. "This episode is a first for TV," said Cerullo. "We go inside the city of Tuxtla Gutierrez, a place where conflict and violence run rampant among religious groups. Crime and extreme poverty also are issues. As a result, I think people will gain an entirely new insight into the world and strengthen their own faith."
Cerullo also said that there are other real-life moments that will be seen throughout the series that move beyond ministry conferences and meetings. "I want people to know that you can have a strong faith walk and still enjoy life, live it up a little. I also want people to know that they can have their own 'Thunder Road' experience when they learn to trust and seek God, even during their most difficult times."
Named by Charisma magazine as one of the "30 Emerging Voices" that will lead the church in the next decade, Cerullo stepped from in front of the cameras at the youth/young adult ministry Steelroots in 2007 to launch Ben Cerullo Ministries. The ministry continues Cerullo's passion and commitment to bring the Gospel to not only young people, but people of all ages and backgrounds throughout the nations. Cerullo has ministered to thousands of people around the world, with meetings held in places such as Bogotá, Colombia; Maracaibo, Venezuela; Gabon, Africa; the Democratic Republic of Congo; Taipei, Taiwan; Tabasco, Mexico; and throughout the United Kingdom and the United States.
INSP is available in more than 54 million U.S. households via more than 2,400 cable systems and on DIRECTV channel 364 and DISH Network channel 259. "Thunder Road" also will air on i-Lifetv - Inspirational Life Television. Internationally, the program will air on Inspiration Network International reaching over 70 million homes around the world. Viewers can check their program guides for channel line-up information. For more information about "Thunder Road" and Ben Cerullo Ministries visit http://www.bencerullo.com.
About Ben Cerullo Ministries:
Ben Cerullo Ministries was launched in 2007 as part of the expanding Inspiration Ministries families of ministries by Ben Cerullo, founder of the youth-culture ministry, Steelroots. Under Cerullo's leadership, Steelroots developed into one of the leading ministries to use action sports and Christian music to reach youth and young adults. The growth and far-reaching impact of the ministry resulted in Charisma magazine naming Cerullo as one of the "30 Emerging Voices" that will lead the church in the next decade. Ben Cerullo Ministries serves as another chapter in Cerullo's mission to raise up a generation that will walk in the purpose and power of God and show the world that Jesus is who He claims to be. For more information about Ben Cerullo Ministries visit http://www.bencerullo.com.
Contact:
Kristina Hill
704.806.1511
khill(at)insp.com
###