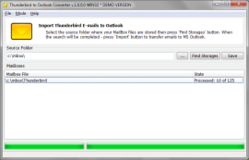 This advanced email conversion tool dramatically simplifies the process of Thunderbird to Outlook conversion and ensures the integrity of converted data.
Sacramento, CA (PRWEB) April 23, 2013
GLEXSOFT, a recognized expect in the field of data conversion and migration tools, is glad to announce the release of Thunderbird to Outlook Converter, the most advanced product of its type on today's market. Unlike most of its competitors, Thunderbird to Outlook Converter offers a one-click approach to data migration and enables users to convert their messages without any intermediate steps or manual operations.
"Thunderbird email migration has always been a problem for users who wanted to switch to Outlook, since it inevitably involved the conversion of messages to the EML format, lots of manual operations, use of additional software and things that were a bit too complex for an average user," says Atie Uhan, Senior Product Manager at GLEXSOFT. "Our Thunderbird to Outlook Converter is the first solution on the market that completely automates the process and boils it down to a few confirmation clicks. I hope this great tool will help many users out there – and we'll definitely keep working on further improving the product!"
The program efficiently solves two major problems of Thunderbird to Outlook migration: location of the source MBOX files and correct conversion of their contents to Outlook's native PST format. This tool locates the main Thunderbird installation folder and performs a recursive search in its subfolders to locate multiple storage files of the MBOX format. Once done, the program populates the corresponding list in the program interface to provide users with access to their Thunderbird data. Read more in the step by step instruction.
Clicking the "Import" button starts the conversion process and results in the complete transfer of Thunderbird messages and attachments to Outlook. The software has no limitations on the size of the source MBOX files and offers the best-of-class conversion speed thanks to a deeply-optimized conversion engine performing on-the-fly MBOX to EML conversion and PST file assembly. Thunderbird to Outlook Converter is also capable of importing data from partially damaged MBOX files and supports all major versions of Microsoft Outlook, including 32- and 64-bit edition.
Today Thunderbird to Outlook Converter is offered for minimum price for this release readers.