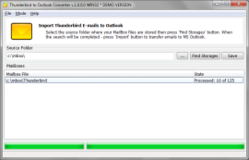 a unified approach to extracting messages from Thunderbird MBOX files and converting them into Outlook's native PST format.
Sacramento, CA (PRWEB) April 08, 2013
GLEXSOFT, a leading supplier of specialized solutions for fast and hassle-free data conversion and migration, is glad to announce the release of Thunderbird to Outlook Converter, the newest and the most powerful product of its type on the market. The key advantage of this product is the fact that it efficiently eliminates the need for any intermediate steps or manual operations – their Thunderbird data are converted and moved to a new PST file at once.
The simplicity of the process can be attributed to the program's advanced proprietary file analysis and conversion engine, and an intuitive wizard-based interface suitable for users with basic computer skills and no previous data migration experience. Thunderbird to Outlook Converter / download from official site / also solves the second major problem of Thunderbird to Outlook migrations – location of the source MBOX files that Thunderbird saves without extensions and to multiple subfolders of its installation folder. A tedious task when done manually, it turns into a breeze with Thunderbird to Outlook Converter, since it automatically detects the program installation folder and recursively searches for all available MBOX files. Once the files have been located and added to list of sources, the user can click a single button to start the conversion process. The product supports MBOX files of any size and works with all major versions of Outlook, including 32- and 64-bit editions. In addition, Thunderbird to Outlook Converter is capable of extracting and converting data from MBOX files damaged as the result of various data corruption incidents. Thunderbird to Outlook migration program is an excellent choice for users looking for a way to migrate their entire Thunderbird archive to PST files quickly and without resorting to slow and expensive data migration services.
"Thunderbird to Outlook Converter is one of the several products we are releasing at the moment and it has everything for becoming a great success. Unlike similar solutions from our competitors, our product performs full MBOX to PST conversions in just a few clicks of a mouse and requires absolutely to input from the user – no intermediate conversion, no dragging and dropping of files to the destination program, nothing like that!" explains Senior Developer at GLEXSOFT.