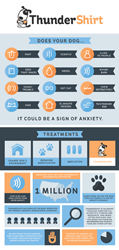 It's important to look for signs of anxiety in your pet and determine the best ways to treat the problem.
Durham, N.C. (PRWEB) November 07, 2013
Stress affects everyone, but what people may not know is that stress also affects a large number of pets. A recent survey reported that more than 29 percent of dogs suffer from fear and anxiety, which is why ThunderWorks, the makers of the ThunderShirt, has released a visual infographic outlining the major causes and symptoms of pet anxiety to encourage all pet owners to recognize and find solutions for stress and anxiety in their pets.
"Excessive panting or yawning, destructive behavior such as chewing or clawing, avoidance behavior, pacing, unsettling demeanor and indoor elimination are among some of the most common and notable signs of pet anxiety and stress," said Phil Blizzard, founder of ThunderShirt and CEO of ThunderWorks. "It's important to look for these signs in your pet and determine the best ways to treat the problem."
In addition to the infographic, ThunderWorks offers the following solutions to help pet parents recognize and treat potentially stressful or anxious pets:

Pay attention to possible stress/anxiety triggers. If a pet's behavior seems to be changing, try and identify what the outside influencers may be. The most common anxiety triggers include: thunderstorms; loud noises; large, unfamiliar crowds; travel and separation.
Weather and storm-related anxiety can cause pets to shake, shiver, bark and become irritable. One solution is the ThunderShirt, which applies a gentle constant pressure to a pet's body, similar to the idea of swaddling an infant. The added gentle pressure provides a simple and safe solution to calm the dog, naturally. Additionally, provide a more calming sensory experience for a dog or cat with the ThunderSpray, a synthetic pheromone that mimics the mother's scent so that the pet will feel calm and safe. It can be sprayed onto the ThunderShirt, or a comforting bed or toy.
If a pet is experiencing crowd or noise anxiety, set aside a place in the house where they can go to feel comfortable and quiet, bring their favorite toy or consider a ThunderToy and ThunderTreat for added distraction.
If a pet becomes stressed or unruly during public walks, a "no pull" leash and harness in one such as the ThunderLeash will help give constant gentle feedback to calm them down.
Signs of travel anxiety include carsickness, barking, whining, pacing, scratching and restlessness. Many dogs become dangers to themselves and others by jumping on the driver or otherwise distracting concentration from the road. Using the ThunderShirt prior to car entry can help combat a pet's erratic behavior, even for short car rides. Also, the ThunderCap filters a dog's vision in order to reduce the visual stimulation that is experienced during travel.
Behaviors such as chewing, indoor elimination and defecation commonly align with separation anxiety. While separation is an unavoidable reality for most households with pets, ThunderShirt provides an all natural, calming solution with no training needed.
If you are a member of the media and would like more information about pet anxiety solutions, or to request a product sample, high-resolution image of this new infographic or an interview with a ThunderWorks' spokesperson, please contact please contact Kerry Sutherland at K. Sutherland PR, Kerry(at)ksutherlandpr(dot)com or (949) 328-4895.
About ThunderShirt and ThunderWorks
Founded in 2009 in Durham, N.C., ThunderShirt's mission is to bring relief to the millions of dogs, cats and their families struggling to cope with anxieties. The ThunderShirt is designed to apply a constant, gentle pressure to a dog or cat's torso creating a dramatic calming effect for most users. ThunderShirt continues to investigate anxiety and fear issues with scientific-based studies and surveys from recognized veterinarians and pet owners. ThunderShirt has already helped millions of dogs and cats across the country and around the world. The company also donates thousands of ThunderWorks products and funding to rescue groups and shelters to help these organizations manage their anxiety cases and find permanent homes.
In recognition of the company's expanding product line into more calming solutions, ThunderShirt has changed its corporate name to ThunderWorks. As always, the company is committed to developing calming pet products that are effective, simple to use and strengthen the bond between pet and pet parent. Together, let's be better humans to our pets. Products are sold at http://www.ThunderWorks.com and by retail stores, veterinarians, trainers and kennels across the country.