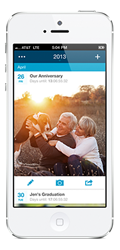 It wasn't enough to just remember a day; I can use a calendar for that. I wanted something to remind me why that day was worth remembering
Huntington Beach, California (PRWEB) August 06, 2013
Available today, the app Fave A Day offers iPhone users a simple way to capture and preserve their most memorable days while tracking the number of days since or until that specific day. It helps users 'favorite' a day by recording the date, a special note, and by attaching multiple photos as mementos of that day.
Memories are one of life's more important features. They are the sum of who we are and how we have lived. More importantly, they provide a focus for the daily practice of gratitude. Fave A Day was developed with this belief in mind.
"This app was inspired through the research of emotional well-being and happiness," said Rick Luevanos, creator of the app. "It wasn't enough to just remember a day; I can use a calendar for that. I wanted something to remind me why that day was worth remembering."
The Fave A Day app provides its users with a simple and elegant user interface. Adding a day is as simple as choosing a title and date, then adding a small note about the day. Photos can be added to the favored day through the devices camera or photo album. Each day is presented as a 'card' with scroll-able photos and the number of days since or until that day repeats again. Users will receive a notification when a future day has finally arrived.
Fave A Day is currently available on iTunes for iOS. It is available for free through August 16th, 2013. After which it will be available for $.99.
Please visit http://www.faveaday.com for more Fave A Day information, including screenshots of the app.
The Fave A Day app was developed by Thunkly LLC, a software development company founded in 2013.