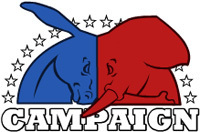 Brooklyn, NY (PRWEB) October 15, 2007
THUP Games today announced the release of "Campaign," a Web game that lets users champion a presidential campaign and challenge opposition in a humorous, novel fashion.
The game, available online at http://www.campaigngame.us , is the latest head-to-head multiplayer game from THUP, an award-winning innovator of next-generation Web games.
Typical presidential campaigns include kissing babies, pressing the flesh, eating local fried foods and staying on message, but everyone knows that success really comes down to two things -- mounds of money and the remorseless destruction of all who stand in the way.
In Campaign, players choose their favorite presidential candidates, build a staff of ruthless aides and storm across the country rallying supporters, raising cash and slugging it out with opponents. The freewheeling Web game features inspired caricatures and a comical take on political fighting. Included are scathing attacks that singe the enemy, hatchet men who hack away at opponents and fundraisers who swing bags of money.
While sliming, smacking and smearing the opposition is fun, Campaign is much more than an over-the top political romp. It is also a challenging game of strategy and tactics that presents players with difficult challenges at every turn, such as:

Should you send your spinmeister to capture the West Coast and help fill your coffers, or do you have him soil the opposition with mudballs of innuendo?
Should you attack an enemy stronghold with your fundraiser, or should you have her pump up your flagging candidate with a cash infusion?
Campaign also features tools aimed at creating community surrounding the game and American politics. It provides weekly charts detailing how registered players stack up against each other, who the most played candidates are and how those candidates have fared in head-to-head competition and primary races. It also provides forums for players to discuss political topics, post opinions and share their favorite presidential campaign tricks and strategies.
Key features of Campaign include:

Option to play any of the three leading 2008 candidates from each party -- Clinton, Edwards and Obama for the Democrats, Giuliani, Romney and Thompson for the Republicans
Option to campaign against members of their own party in Primary Mode, or fight those of the opposition in General Election Mode
Inspired stylized caricatures duke it out in a comical take on political fighting
Four different staff types allow for a wide range of campaign strategies
In-game chat allows players to taunt their real world opposition and add their own spicy slogans and talking points to the mix
Single Player allows campaigners to hone their skills and experiment with various strategies
Weekly stat updates and a leader board let players keep an eye on who's on top and how they measure up
Forums where players can discuss the game and post opinions, discuss topics and present items related to the world of politics
About THUP THUP Games is a Brooklyn-based company specializing in single and multiplayer Web games, including "Campaign," a novel presidential campaign game. For more than eight years, THUP has been creating and developing award-winning games and interactive applications for some of the world's largest media companies. For more information please visit http://www.thup.com.
###