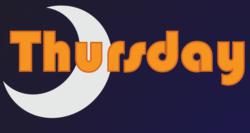 When this day of the week rolls around, we often have two thoughts: tomorrow is Friday, and what am I doing this weekend?
New York, NY (PRWEB) June 03, 2013
Social media was made to help us socialize, right? Well, not exactly. Sifting through the abundance of information on sites like Facebook or Twitter rarely leads to face-to-face interactions between friends. Even with all the social media that exists, people still tend to make their weekend plans based on word-of-mouth suggestions. Text messages between a few close friends often mean that nightly options are limited; at least the knowledge of options is limited.
A new mobile application has set out to change just that. The app is called Thursday, a tribute to the day of the week that marks the start of the weekend for college students and young people alike. "When this day of the week rolls around, we often have two thoughts: tomorrow is Friday, and what am I doing this weekend?" says Hailey Friedman, Emory University Alum & Teach For America Corps member, who co-founded Thursday with James Rubinowitz, another Emory University Alum, and Julian Tigler, senior at Duke University. "It's the day that most people begin to solidify their plans for the weekend. And let's face it, everyone's happy when Thursday is here."
Thursday is like a personal database for all your past and future social plans. It's kind of like Foursquare, but instead of "checking–in", it's more focused on social planning in advance. The app is targeted to 18-35 year-old Smartphone users. Described as an easier way to plan your social life, Thursday gives users a way to find out what their friends are doing at night, without texting or calling them to ask.
The Thursday team pitched their app in Austin, Texas at the South by Southwest Festival this past March, being selected out of 64 teams as one of the "Entrepreneurial Eight" in Student Startup Madness, a national entrepreneurship tournament.
The app helps broaden nightly options by making social calendars public between friends. "Currently, our plans are either not displayed, or displayed in a way that makes comparisons difficult. The information exists, but in a scattered way," says Friedman, one of the app's co-founders who resides in New York City. Thursday aggregates this information into a "popular venues" list that ranks the top places your friends plan on being, and exactly who is going to be there. This opens up new opportunities and helps people make decisions about how to spend their valuable free time. You get to decide where you want to go based on how many of your friends will be there.
Founded in New York in July 2012, Thursday mobile application is designed to bring friends together and maximize fun. The company seeks to provide an easier way to explore new places in the company of people you know.
For further information about the Thursday social media app, please visit:
http://www.Thursdayishere.com
# # #