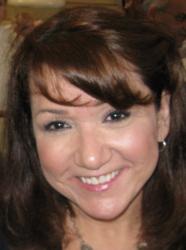 It's so inspiring to bring together thyroid patients and those with hormone issues, help them fast-forward up the learning curve, arm them with information, and help them create practical plans to feel and live well.
Kensington, MD (PRWEB) July 11, 2011
Thyroid conditions, hormone balance, and adrenal health have been the focus of greater patient, practitioner and media attention lately, as more people recognize the dramatic effect these issues can have on overall health.
Best-selling author and thyroid patient advocate Mary Shomon will be leading a series of interactive workshops on optimal wellness for thyroid patients, and managing adrenal imbalances and stress-proofing your life at New York City's Open Center on Saturday July 16, 2011 and Sunday July 17, 2011.
Says Shomon, ""It's so inspiring to bring together thyroid patients and people with hormone imbalances, and help them fast-forward quickly up the learning curve, arm themselves with information they need, and put together practical plans. In today's health care environment, if you want to feel and live well, you have to be an empowered, proactive patient, and that starts with knowledge."
Shomon, who is the author of ten books on thyroid disease and hormonal health, including the New York Times bestseller, "The Thyroid Diet: Manage Your Metabolism for Lasting Weight Loss," has been on the faculty at the Open Center, New York's Leading Center of Holistic Learning, since 2006.
Living with Thyroid Disease Workshop Helps Thyroid Patients Design a Personalized Wellness Plan
On Saturday July 16, 2011, the all-day, 10 a.m. to 5 p.m. interactive "Living with Thyroid Disease: Creating Your Wellness Plan" workshop will be held at the New York Open Center.
The workshop focuses on developing hands-on, practical tools and approaches to help thyroid patients feel and live well, despite an underactive or nonfunctional thyroid. By the end of the workshop, participants have mapped out personalized plans for optimal wellness.
Most people with thyroid disease (whether it's Hashimoto's, nodules, Graves'/hyperthyroidism, or thyroid cancer) end up with an underactive or surgically removed thyroid and hypothyroidism, and wind up experiencing fatigue, depression, weight gain, hormonal problems and many other symptoms.
The "Living with Thyroid Disease" workshop will help participants identify the key things they can do to feel and live better with an underactive thyroid. The areas covered in the workshop will include:

optimizing thyroid treatment
understanding thyroid medications and hormone treatments, including bioidentical hormones
finding doctors for thyroid issues
managing thyroid-related fatigue and boosting energy
helpful supplements, herbs and nutrition
yoga breathing for metabolism and stress reduction
lifestyle changes and stress management
optimal exercise approaches
weight-loss and diet for thyroid patients
hair loss solutions
thyroid-related hormonal challenges, such as fertility, pregnancy, breastfeeding, perimenopause and menopause
To make the experience even more effective, and help participants put together their personalized wellness action plan, workshop attendees are encouraged to bring copies of their recent blood test results for discussion, and a list of all the medications and supplements (with all the ingredients) they're taking.
Shomon's special guest presenter during the afternoon session of Saturday's workshop will be Manhattan-based integrative physician David Borenstein, MD, who will be sharing his approach to thyroid diagnosis and treatment. Dr. Borenstein has been in private practice in the New York City area for a number of years, working with patients who have thyroid, autoimmune, adrenal, and other hormone imbalances.
The "Living with Thyroid Disease: Creating Your Wellness Plan" workshop is $120 for Open Center members, and $130 for nonmembers. In addition, the day of the workshop, participants will need to pay an additional $10 materials fee directly to Mary Shomon to cover the cost of the comprehensive workshop information materials package. Registration with the Open Center is by telephone at 212.219.2527 or online at:
http://www.opencenter.org/living-with-thyroid-disease
The Stress-Buster Plan Workshop: Helps With Adrenal Balance, Exercise, Relaxation, and Protecting the Body Against the Effects of Stress
Stress, perhaps the greatest threat to health in contemporary life, can be caused by a wide range of factors: toxins in our air, water and food; poor dietary choices and nutritional deficiencies; chronic bacterial, fungal, viral or parasitic infections; and lifestyle issues such as insufficient sleep, lack of exercise (or for some, overexercising); and chronic worry and anxiety.
The first points of vulnerability in the body are the adrenal glands, which can become exhausted, followed by the immune system in general, which can weaken. This opens us up to all sorts of imbalances and ailments. This workshop offers a realistic, practical, gentle but highly effective approach to reducing stress and resolving adrenal and immune system issues.
On Sunday, July 17, 2011, from 10 am to 5:30 am, this innovative workshop will bring together three health educators to help participants learn how to deal with stress inside and out. Thyroid advocate Mary Shomon will focus on identifying physical, emotional and environmental stressors, as well as the medical and nutritional approaches to adrenal insufficiency. Exercise physiologist Teresa Tapp will teach some fast, effective -- yet less taxing -- fitness moves that can be easily incorporated into busy lives as part of everyday activities — without causing fatigue or adrenal burnout. Stress management guru Lisa Moretti will share guided imagery, deep breathing, tapping and other techniques that can bring relaxation in minutes, and protect against the long-term negative effects of stress.
Workshop participants will leave with a personalized Stress-Buster Plan, featuring practical approaches they can implement right away to help manage stress, relax, and optimize wellness.
The "Stress-Buster Plan Workshop" workshop is $125 for Open Center members, and $135 for nonmembers. Registration with the Open Center is by telephone at 212.219.2527 or online at:
http://www.opencenter.org/the-stress-buster-plan-strengthening-your-adrenals-and-your-immunity/
Workshop Information and Registration
All workshops are being held at :
The New York Open Center
22 E. 30th Street (between Madison Avenue and 5th Avenue)
New York, NY 10016
Web: http://www.opencenter.org
Registration for the thyroid workshops is by telephone at 212.219.2527 or online at
http://www.opencenter.org/teachers/?teacher=30
About Mary Shomon
Mary Shomon is a thyroid patient advocate best-selling author, and since early 1997, Shomon has served as Guide for the About.com Thyroid website at http://thyroid.about.com -- part of the New York Times Co. -- and as founder/editor of the popular patient thyroid newsletter, "Sticking Out Our Necks" and Thyroid-Info website at http://www.thyroid-info.com online.
Shomon's desire to cut through medical jargon and deliver information to her fellow patients in a form they can understand resulted in her first health-related book, the best-selling "Living Well With Hypothyroidism: What Your Doctor Doesn't Tell You...That You Need to Know."
Shomon is also author of "The Thyroid Diet: Manage Your Metabolism for Lasting Weight Loss," which was on New York Times Bestseller list.
Shomon is also author of a number of other popular thyroid-related books, including "The Menopause Thyroid Solution," "The Thyroid Hormone Breakthrough," "Living Well With Graves' Disease and Hyperthyroidism," "Living Well With Autoimmune Disease" and "The Thyroid Guide to Hair Loss."
Since 1997, in her role as a thyroid patient advocate, Shomon has been featured in hundreds of television, radio, newspaper, magazine and web interviews worldwide, including appearances on ABC World News Tonight and CBS Radio Networks, WOR radio, and interviews in the New York Times, Wall Street Journal, First for Women, Ladies Home Journal, Health, Cooking Light, Elle Magazine, Woman's World, and the Los Angeles Times, among others.
In addition to her advocacy and writing, Shomon is also a patient advocacy coach. Her information is available online at http://www.thyroid-info.com, http://www.thyroidcoaching.com, and at http://www.facebook.com/thyroidsupport on Facebook. Shomon can also be followed at http://www.twitter.com/thyroidmary / @thyroidmary on Twitter.
About David Borenstein, MD
Dr. Borenstein is board certified in Physical Medicine and Rehabilitation and certified in Medical Acupuncture. He has a special interest in holistic and complementary medicine, and is an Adjunct Professor at the SUNY Health Science Center at Stony Brook. His website is http://www.davidborensteinmd.com
About Teresa Tapp
Teresa Tapp is a dynamic exercise physiologist, best-selling author of "Fit and Fabulous in 15 Minutes," and founder of the T-Tapp wellness workout system, which includes a variety of fitness programs and exercises for all levels of fitness, wellness and ability. T-Tapp relies on unique mind-to-muscle activation techniques, which help people of all ages and levels of fitness how to effectively and quickly build muscle and lose inches without causing injury or adrenal and immune exhaustion. Teresa Tapp is online at http://www.t-tapp.com and on Twitter as http://www.twitter.com/TTappworkout .
About Lisa Moretti
Lisa Moretti is a nationally-known health journalist, holistic health advocate and speaker, and stress management expert who teaches classes and workshops highlighting techniques to effectively tap into the body's relaxation response to help enhance health and wellness, and counteract the negative effects of stress on the body.
###