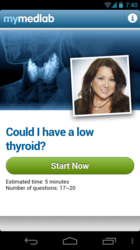 Think of it as an expert guiding you through a process to better understanding a specific health topic, in this case Thyroid disease, then, helping you prepare to see your own personal doctor. David Clymer
Joplin, MO (PRWEB) January 03, 2013
January is Thyroid Awareness Month. Mary Shomon in partnership with MyMedLab has launched the ThyroidApp, designed to provide a digital health solution for today's connected consumer.
"The challenge we gave to Mary was, if she could only know twenty things about me to determine my thyroid health, what would they be," explained David Clymer, CEO of MyMedLab. "This digital health experience is based on Mary's response."
The ThyroidApp begins with a digital conversation with Mary by asking about the most common symptoms, family history, environmental exposure, various treatments, and radiation exposure. The answers to these questions produce a personal risk report which can be emailed and printed out as a starting point for the conversation at the next doctor's visit.
"Symptoms are one thing, but blood tests complete the picture," says Mary Shomon. "The exciting part of the ThyroidApp is that it is an experience. Once you receive your risk report, you can order lab results directly from the app, select the option to talk with me about your results, or simply ask me a question to be answered during a LiveFAQ Google+ Hangout."
"Think of it as an expert guiding you through a process to better understanding a specific health topic, in this case Thyroid disease," continued Clymer. "Then, helping you prepare to see your own personal doctor. We believe that the ThyroidApp and others we have coming down the pike, are fundamentally changing the way that you prepare for your doctor visits."
The goal for Mary and David is to have 100,000 people download and go through the app during Thyroid Awareness Month.
The ThyroidApp can be a first step in a healing journey to anyone suffering needlessly from a thyroid problem. The app is free in the Itunes and Android markets and can be embedded on any website or blog post.
Go to the ThyroidApp mobile site to download or to get the code to embed on a website.
About MyMedLab
MyMedLab is a leading provider of direct-to-consumer laboratory testing services. We like to call it 'the science of you'. MyMedLab has developed a unique suite of software applications and professional networks that enable the ordering, processing, and reporting of test results directly to consumers. MyMedlab.com allows consumers to access test results in 6 easy steps! Step 1. Order test online. 2. MML Dr. Approves. 3. Print lab order. 4. Visit local lab. 5. View results online. 6. Order an expert review. Start making more informed health care choices, visit; mymedlab.com
About Mary Shomon
Mary Shomon is the nation's leading thyroid patient advocate – a writer and communicator who has transformed her own struggle with thyroid disease into an advocacy campaign on behalf of patients with chronic diseases such as thyroid disease, autoimmune conditions, and hormonal health. Mary is the author of 11 books, including the New York Times best-selling book The Thyroid Diet: Manage Your Metabolism for Lasting Weight Loss. (2004). To learn more, visit; https://www.facebook.com/thyroidsupport