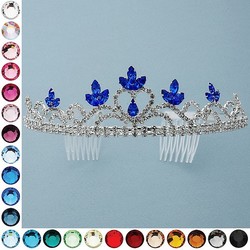 Here at My Wedding Reception Ideas we pride ourselves in providing unique and personalized pieces for every personality
Willard, OH (PRWEB) July 9, 2009
My Wedding Reception Ideas - a leader in personalized wedding favors, accessories, and gifts - is excited to announce the launch of custom wedding tiaras giving brides more options than ever before. Along with this new line, additional hair accessories are also being introduced including crystal headbands for women searching for a little something different. This new line of tiaras and headbands features custom Swarovski crystals available in 23 color options and is available in all shapes and sizes to compliment individual needs and interests.
Every bride-to-be has their own unique vision of their wedding day. Naturally no bride wants to have the same cookie cutter style of every other girl that comes along. "Here at My Wedding Reception Ideas we pride ourselves in providing unique and personalized pieces for every personality," says Allison Parker, sales representative at My Wedding Reception Ideas. "The new line of tiaras and headbands gives brides a wider selection to choose from so they can find what's right for them."
Tiaras come in unique sizes and shapes to compliment individual tastes including anything from headband styles to tall pageant sizes. For formal and large updos, brides may decide on a taller headpiece that will compliment more elaborate coifs. Thinner or more casual updo? She may opt for a small tiara style and one that won't outdo her do. Headbands are a popular alternative to traditional pageant styles pieces mainly due to their versatility; working with almost any hairstyle. Headbands are great for keeping the hair swept away from your face. A bride may even decide to add two or three bands for a Greek Goddess look or to create her own look. For more customized features, over 23 color options have been introduced to compliment individual wedding visions and color schemes.
Custom colors for hair accessories include 23 Swarovski crystals colors. Color options range from classic crystal to deep chocolate brown. Available colors also featured are 5 different shades of pink, 6 hues of blue, and assorted greens, reds, oranges. Tiaras are seen set in silver or gold and are rhodium plated for shine and durability. Over 30 new tiaras and headbands are featured available in different sizes, shapes, colors, and more.
My Wedding Reception Ideas offers brides information, tips, and ideas for their wedding reception and specializes in premium personalized favors, accessories, and gifts.
###