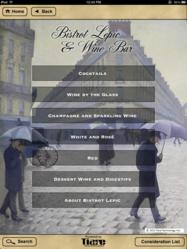 We selected Tiare for their unique ability to customize the system for the restaurant's aesthetic.
Cherry Hill, New Jersey (PRWEB) December 21, 2011
Tiare Technology announced today that it has deployed its patented Wireless WineList™ solution at Bistrot Lepic & Wine Bar in Washington, DC, one of the city's top French restaurants and the first in the city to offer their guests Tiare's iPad-based menu ordering solution for wine and cocktails.
The Wireless WineList application allows restaurant guests to easily view and order wines using a wireless Apple iPad tablet or other wireless device and Tiare's proprietary software. Guests can use the tablets to peruse the wine list to discover the breadth of wines offered. They can also quickly sort the wines to display by region, varietal, price range or other categories, or click to search the database and pinpoint a specific selection.
The system displays extensive information about the restaurant's wines, including tasting notes, vintage information, and background on the winery, the region or the grape varietals. Photos, wine labels, maps, videos and other information are also easily displayed.
Cyrille Brenac is at the helm of Bistrot Lepic's wine program, featuring over 500 bottles in a custom-designed wine cellar. "I strive to feature French wines not commonly available in the United States," Brenac says. "Tiare's Wireless WineList system allows guests to easily review the wine list and learn about these wonderful wines. We are delighted to be the first restaurant in the city to feature this technology."
Tiare's Wireless WineList system is designed to meet the needs of both the wine expert and the wine novice. It offers powerful tools to allow oenophiles to easily sort, analyze and locate a particular selection, view a vertical collection or explore regional specialties. Casual users can learn about the restaurant's offerings at their leisure, without the fear of intimidation.
The system is intended to complement, rather than replace, the personal attention of the sommelier or server. Guests can place selections onto the system's Consideration List™ for discussion with the restaurant's staff. The system can also be configured to page the staff with the guest's selection, or even place the order directly to the restaurant's point of sale system.
"We selected Tiare for their unique ability to customize the system to reflect the restaurant's aesthetic, as well as to tailor the way the wines could be categorized," Brenac says. "Other products just don't have this flexibility."
Brenac offers the Wireless WineList tablets to his guests in the main dining room as well as the upstairs wine bar. Ultimately, he would like to eliminate paper menus completely.
"Maintaining the list is now much more efficient because we can add or remove a wine, or change a vintage on a moment's notice - and it is reflected immediately on the wine list," says Brenac. Bistrot Lepic also features their expansive digestif offerings on the iPads.
"The Wireless WineList system is an exciting platform that allows restaurants to get the most from their wine program and increase wine sales," says Jeff Krevitt, President of Tiare Technology. "What Tiare offers is a comprehensive and customized business solution for the restaurant – not just a do-it-yourself app."
Tiare's ordering solutions can be found across the United States and around the world. Those inside the Beltway can enjoy using the Tiare Wireless WineList at Bistrot Lepic, and if headed off to Iowa for the Caucuses, stop by the top restaurants in Des Moines, Centro and Django, to experience the Wireless WineList. Krevitt adds, "No matter what your party affiliation, everyone can agree that the Tiare Wireless WineList is a winning solution."
About Tiare Technology
Tiare Technology develops and markets to the global hospitality and leisure industry wireless communication products and software services, using patented technology, that increase revenue, generate labor savings and enhance customer service. The company offers solutions that allow guests at hotels, resorts, casinos, cruise ships, stadiums and other leisure locations to order food, beverages, merchandise and services using wireless devices featuring proprietary software. Tiare products include the intelliChaise®, VIPSeat™ Restaurant, Wireless WineList™ and Tiare GuestBook™ ordering systems. The solutions offer interfaces to major point of sale systems. Tiare products seek to eliminate the use of paper – an eco-friendly platform to provide guests with information and services. The product platform has been granted U.S. and international patent protection (U.S. Patent 7,945,477). Founded in 2002, Tiare Technology is a privately held corporation based in New Jersey. For more information, visit http://www.tiaretech.com, email info@tiaretech.com or follow us on Facebook, Twitter and LinkedIn.
About Bistrot Lepic
There is no need to travel all the way to Paris to experience classic, regional and contemporary French cuisine. Bistrot Lepic & Wine Bar has been part of Georgetown's culinary landscape since 1995. On Tuesdays we conduct complimentary wine tastings with producers in the search of the perfect complement for your meal. Join us upstairs at our Wine Bar where you will feel as comfortable as in your home. The Wine Bar features Live Jazz every Wednesday night. You can always gather your friends for a private dinner in the Wine Room, showcasing our 500-bottle wine cellar. Bistrot Lepic & Wine Bar has been awarded one of the "Ten Best Restaurants in the Country" by Bon Appétit and one of the "Top 40" restaurants by Zagat. Open daily for Lunch and Dinner. For more information and reservations contact: Bistrot Lepic & Wine Bar - 1736 Wisconsin Ave, NW - Washington, DC 20007 Tel: 202 333 0111 - mail@bistrotlepic.com or http://www.BistrotLepic.com.
Products or services mentioned may be trademarks of their respective owners
All images © 2011 Tiare Technology, Inc.
###