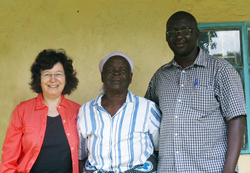 We knew we would need to break the traditional philanthropy model.
San Francisco, CA (PRWEB) July 7, 2010
The Tiba Foundation, founded by a Kaiser Permanente oncologist, announced today that construction on a community hospital in rural Kenya will begin this summer.
The project showcases the Foundation's unique approach to philanthropy.
"Not many non-profits grow past the grassroots phase," said founder Gail Wagner, MD, whose 2003 trip to the Nyanza Province of Kenya provided the spark to create a community health care system in the severely under-served region. "We knew that if we wanted to grow our efforts and build something that would eventually sustain itself, we would need to break the traditional philanthropy model and really professionalize our management practices."
In late 2009 Tiba retained management consulting firm, Schaffer & Combs, of San Francisco, and tasked it with figuring out how to manage risk, to measure results, and to create effective partnerships with local organizations in Kenya.
"It was a bold move on Tiba's part," said Arthur Combs, PhD, partner at Schaffer & Combs. "There's this traditional wall between the management knowledge base in the for-profit world, and what people believe can be accomplished in developing world philanthropy. Tiba's willingness to apply good investment and management practices to their work in Kenya is more unique in the non-profit world than one might think."
The result for Tiba has been an operational model that more closely resembles how a successful investment firm works than it does traditional grant-making. "The difference," Combs was quick to point out, "is that our returns are measured in good health and everything that comes with that, rather than in financial gains." Tiba's board formally voted to call the model, "Philanthropic Investment Management," to further differentiate it from the way some charitable foundations send aid to Africa.
"Our focus is on clear performance measurement, accountability between us and our local partners, and managing our resources to be sure planned goals are achieved," said Peter Sherris, MD, Tiba's board president and a retired cardiologist. In addition to facilities projects like the new hospital, Tiba's investment categories also target staffing and training, community health workers, medical supplies, and health care access.
"It's easy to just focus on check-writing when you see the depth of the health care problems in rural Kenya, but we've been able to take a step back and design a model that repeats successes and pinpoints things that aren't working. It's better for the people we are trying to help, and it's better for our donors."
To date, the Tiba Foundation has worked with its local partners to establish, staff, and supply an outpatient clinic that treats nearly 15,000 patients a year. The new hospital will significantly extend the reach of quality health care to the region's 250,000 residents.
About Tiba Foundation
Tiba Foundation invests in community health care in rural Kenya, and is a 501(c)(3) organization, incorporated in California. Learn more at http://www.tibafoundation.org
About Schaffer & Combs, LLC
Schaffer & Combs is a management consulting firm in San Francisco, California. Learn more at http://www.schaffercombs.com
###