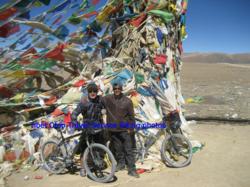 Tibet biking adventure 2013 with local Tibet travel agency www.tibetctrip.com
(PRWEB) February 13, 2013
Tibet Ctrip Travel Service, a Lhasa based Tibet tour agency, is proud to announce the latest addition to its bicycling adventures: a journey from Lhasa to Kathmandu. Travelers begin in Lhasa with a native Tibetan guide and spend several days biking through breath taking Himalayan scenery. At the border, a native Nepali guide picks up and continues on with bicyclists to Kathmandu. A flexible itinerary, that includes time for sightseeing, allows travelers to complete the trip at a comfortable pace and features full vehicle support for equipment. Bicycling through Tibet allows travelers to see much more than trekking tours without the speed and lack of focus of an overland adventure.
The Tibet biking adventure tour begins in Lhasa. A guide will pick travel groups up from the airport or the Lhasa station and transfer them to a hotel for relaxation and acclimatization. Over the next few days, group members will see some of Tibet's most important cultural sites including Potala Palace, Jokhang Temple, along with Sera and Drepung Monasteries. Sightseeing in Lhasa allows travelers to get in touch with Tibetan culture and acclimatize to the altitude before setting off on the journey to Kathmandu. Even as the tour heads toward Nepal, there are plenty of opportunities to stop and learn about Tibetan history and culture. Bikers will stay the night in Gyantse where they will visit the Kumbum Pagoda and Pelkhor Monastery and Shigatse home to Tashilhunpo Monastery, seat of the Panchen Lama.
A tour vehicle will accompany travelers throughout the journey to carry equipment and give a lift to bikers needing a break from peddling! Food and water will be provided throughout to refuel fatigued bodies. Depending on the itinerary that travelers choose, they will stay in guesthouses and hotels or camp if the day ends between the cities and Tibetan villages that dot the route from Lhasa to Kathmandu. Meals will be prepared for travelers while camping, special dietary restrictions can be accommodated, as food will be purchased before leaving Lhasa and restocked in Shigatse. For travelers' convenience, bike rental will be included in the tour package as well.
Travelling in Tibet on bike can be one of the best ways to get in touch with its culture in natural scenery. Instead of zooming from destination to destination in a tour van or land cruiser, travelers can set their own pace and truly enjoy the experience. Cyclists will stop in a Tibetan town most nights along the route giving an opportunity to see what daily life is like for Tibetans. While this journey is challenging and covers a long distance, participants will enjoy full vehicle support and an unparalleled perspective on Tibet. At the end of the journey, travelers are welcome to extend their tour to include more time in Nepal. Reservations for the 2013 travel season are now being taken.
For more information on how to set up a tour, contact the Tibet travel agency. Devin Moore authored this new biking service announcement for tibetctrip.com; Devin is a Tibet travel enthusiast who is training to become an econometrician. Get to know Devin Moore.