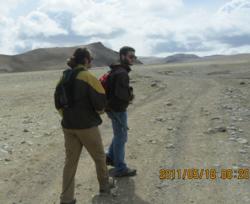 Book a Tibet tour is easy but book the right Tibet weather is wise.
(PRWEB) February 16, 2013
Many travelers planning to visit Tibet are left wondering what time of year is best to go; Tibetctrip.com has released new guidelines to follow when planning a trip to Tibet. While Tibet's climate varies greatly depending on location, in general, the best time to visit Tibet is from mid-April to early October with the best times being in the summer. Even though the rainy season runs from June to September, in places like Lhasa most of the rain falls at night making for picturesque views of Potala Palace and the surrounding mountains. For travelers planning trips outside of Lhasa, it is important to know what to expect and prepare accordingly.
Lhasa and Central Tibet: The Tibet climate here is suitable for travelling throughout the whole entire year. While it can get cold and windy during the winter, the trip can be done as long as travelers prepare for the cold.
Friendship Highway to Nepal: Road conditions are manageable all year, however, it is typically closed to foreigners travelling in Tibet December through January because of icy conditions. During August, landslides may occur rendering the highway inaccessible. It is important to pay attention to forecasts.
Mt. Everest and surrounding area: The whole month of September and early October are fantastic times to visit, as the weather is usually clear this time of year. Some travelers have also had luck seeing Everest in May, however in April, June, July, and August visitors are likely to encounter cloud cover. October through March the Tibet temperatures are typically too low for travelers to visit.
Northern Tibet: Here, the average annual temperature is below freezing and winter lasts from October through May. Because of the high altitudes, it is recommended to schedule a Tibet tour stop here in the summer only. Those who make it out during the warm temperatures are in for unparalleled natural beauty and encounters with Tibetan Nomads.
Eastern Tibet: May, June, and September are the best time to visit because the Tibet weather in these months is just great. The winters are harsh and July and August carry high probability of landslides due to the monsoon rains.
Mt. Kailash Area: The route to Kailash is well trodden, with thousands of pilgrims from all over the world coming every year. Visitors are best off coming in May, June, July, September, or October. The road between Lhasa and Darchen is well paved so there is little worry for landslides, however, travelers must be prepared for sudden drops in temperature here and in other parts of western Tibet.
Tibet travel is possible throughout much of the year if travelers are willing to except the limitations that may be imposed by conditions at that time. Those visiting in the middle of winter will need to stay in Lhasa, but the options open up once spring arrives. A travel agency will help travelers work out the best possible Tibet tour itinerary for the time of year they plan to visit.
For more information on how to set up a tour, contact a Tibet Tour Agency. Devin Moore authored this article; Devin is a Tibet travel enthusiast who is training to become an econometrician. Get to know Devin Moore.