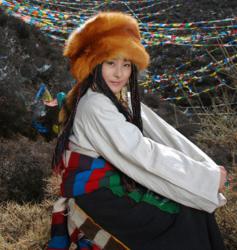 Welcome to experience the real Tibet culture and natural beauty with local tour agency in Lhasa!
(PRWEB) June 06, 2013
Travelers looking for magnificent landscapes blended with opportunities to learn about a fascinating people need look no further than the new Tibet Landscape and Culture Tour by Lhasa based Tibet travel agency Tibet Ctrip Travel Service-TCTS (http://www.tibetctrip.com). Monasteries and temples filled with cultural treasures, mountain scenery, and wide-open valleys await travel groups who embark on this adventure. While all of TCTS's itineraries are customizable to meet travelers' interests, most who set out on the culture and landscape tour begin in Lhasa then head for Shigatse once they have acclimatized to the altitude.
Day 1: Arrive in Lhasa. One of TCTS's experienced native Tibetan guides will meet travel groups at the airport or train station and accompany them to their hotel in Lhasa. Travelers are advised to relax, drink lots of water, and avoid intense physical activity while acclimatizing to the altitude.
Day 2: The Tibet tour starts of with an introduction to Tibetan culture as groups begin their sightseeing tour of Lhasa. Groups will walk where Dalai Lamas have walked for centuries as they tour Potala Palace. Next, the tour heads for Jokhang Temple. Located only a short walk away from Potala Palace, Jokhang Temple houses the only known image of the Buddha, Siddhartha Gautama, to remain in existence today. Travelers will learn a great deal about Tibet, even on their first day of sightseeing. TCTS's native Tibetan guides welcome questions.
Day 3: More sightseeing in Lhasa. The tour of Tibet remains in Lhasa today to allow additional time for sightseeing and acclimatization to the altitude. Travel groups will visit Drepung Monastery. Located just outside Lhasa, it was once one of the world's largest monasteries and served as university for Tibetan Buddhist monks. After lunch, it will be time to see the famous debating monks at Sera Monastery.
Day 4: Today, most travelers will have been traveling in Tibet long enough to acclimatize to the altitude so it's time to get in touch with Tibet's natural beauty. The group heads for the holy Lake Namtso, a pilgrimage site for Tibetan Buddhists. On the way, travelers will take opportunities to stop for pictures of mountains and wide open grasslands, on the way back to Lhasa travelers also have the option of relaxing at Yangpachen hot spring.
Day 5: Today the group heads for Shigatse, Tibet's second largest city. Along the way are many more opportunities to enjoy the mountain scenery and stop for pictures, including at Lake Yamdrok. This shining blue mountain lake is the resting place for early Dalai Lamas and is consistently a Tibet travel favorite. Next up is a stop in Gyantse to learn about Tibetan Buddhism at Pelkhor Monastery and enjoy the Tibetan Buddhist artwork in Kumbum Pagoda. Tonight the group will stay in Shigatse, depending on the arrival time, groups may want to do some exploring!
Day 6: Before leaving Shigatse, travel groups can shop for souvenirs at the Tibetan Market and then tour the sprawling Tashilhunpo Monastery. Tashilhunpo Monastery is the seat of the Panchen Lama and is home to a towering statue of the Maitreya Buddha.
Day 7: Depending on traveler's departure time, there may be time for last minute exploration or souvenir shopping. The group's guide will see them off at the airport or train station.
This weeklong adventure is fantastic for travelers who want to blend stunning mountain landscapes with opportunities to learn about Tibetan culture and history. Whether the travel group be family, friends, or a group of students all kinds of travelers have enjoyed taking away truly valuable knowledge of Tibet. No matter if travelers are coming form Kathmandu to Lhasa or coming from Mainland China, TCTS can help arrange transportation in and out of Tibet. With the Tibet travel season upon here and in full swing, travelers are advised to book their adventure now.
Tibet Lhasa tour agency TCTS Contact Address:
Post Address: Tibet Niwei International Travel Service, Co., Ltd (Niwei Building Room 302, No.13 North Linkuo Road, Lhasa, Tibet)
Tel/Fax (Lhasa area code):86-891-6342607, Mobile: 86-13628999610 (Tony), Post Code: 850000
Email: sales (at) tibetCtrip (dot) com, TibetCtrip (at) gmail (dot) com
Devin Moore, author of this release, is a travel writer and independent economic analyst based in Springfield, Missouri USA. Devin enjoys travelling throughout Asia and his economic research is currently focused on airfare pricing. In partnership with local Tibetan travel agent TCTS (tibetctrip.com), Devin publishes Tibet travel related information in order to spread awareness of Tibet and its people.