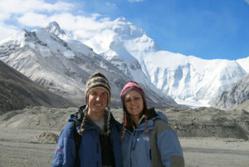 Everest Budget Tour, you never miss!
(PRWEB) May 21, 2013
Including a trip to Mt. Everest on a Tibet tour itinerary is a must for many travelers. When planning the trip, travelers are often faced with the choice of joining a crowded group tour of 20-30 people or bearing the full cost of a private tour. Tibet Ctrip Travel Service-TCTS (http://www.tibetctrip.com) is opening up the options for budget minded travelers with its new Mt. Everest Budget Tibet Tour. TCTS matches small travel groups instead of packing travelers in with 20-30 other people, cutting costs per person while preserving the comfort and flexibility of a private tour!
Travelers' native Tibetan guide will meet groups as they arrive in Tibet and accompany them to their hotel. Once settled in, travelers are advised to rest and relax while acclimatizing to the altitude. Over the first few days, travel groups will enjoy a sightseeing tour of Lhasa that includes Tibet travel favorites such as Potala Palace, Jokhang Temple, and the debating monks of Sera Monastery. Sightseeing in and around Lhasa is a great way to become oriented with Tibetan history and culture, TCTS's native Tibetan guides are always happy to answer questions!
Once travelers have completed acclimatizing and sightseeing in Lhasa the trip towards Everest begins. The drive takes two days, allowing for plenty of opportunities to stop for pictures of the mountain landscapes. On the first day of the drive travel groups will head for Shigatse via Lake Yamdrok and Gyantse; in Gyantse travelers will see the fantastic Tibetan Buddhist art in Kumbum Pagoda and enjoy a tour of Pelkhor monastery. After spending the night in Shigatse, Tibet's second largest city, travelers will visit Tashilhunpo Monastery before heading to Everest.
Travel groups typically arrive at Everest in the afternoon, while some lucky groups may catch a glimpse of the mountain upon arrival; the best time is in the early morning. The travel group will stay overnight in one of the tent camps located near Everest Base Camp. In the morning, travelers will wake up early for closer views of the mountain. The best times to visit are April, May, September, and October; waking up to crystal clear views can certainly be a highlight of travel in Tibet.
While a glimpse of Everest is certain to be a highlight of any tour of Tibet, the scenery en route is nothing to be missed. On TCTS's Budget Tibet Mt. Everest Tour, travelers can enjoy more flexibility to enjoy the landscapes than crowded group tours; group sizes are usually not more than 10 people. Not only will travel groups enjoy Tibet's scenery, but they will also have many opportunities to learn about its history and culture. A smaller group size means more time for asking questions and enjoying insights given by the group's native Tibetan guide! Spots in TCTS's tours are available on a first come first serve basis so travelers are advised to start planning their adventure now.
Devin Moore provided this news release above on behalf of local Tibet travel agency TCTS (tibetctrip.com). Devin is a travel writer and independent economic analyst based in Springfield, Missouri USA. His economic research is currently focused on airfare pricing. Devin Moore works to spread awareness of Tibet and its people through publishing Tibet travel information.