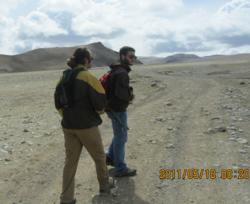 Six Tibet facts get travelers thinking about this year's adventure!
(PRWEB) February 02, 2013
It's time to start planning this year's adventure; some new tips of Tibet facts will familiarize travelers with one of the most unique corners of the world. Tibet's culture has its roots that date back thousands of years. In the past, Tibetans were followers of the ancient Bon religion but now most are Tibetan Buddhist. Any visit to Tibet is likely to be filled with visits to monasteries and cultural sites where guides teach travelers about Tibetan Buddhism and the core values of the Tibetan people. In addition to immersing oneself in a fascinating culture, visitors to Tibet will have ample opportunity to experience Tibet's high altitude natural wonders once they have a permit. These six facts are a great place to start Tibet Travel planning.
1. Religion is interwoven into every day Tibetan life.
On a Tibet tour, travelers will see countless pilgrims prostrate in front of and walk clockwise around (Khora) important places like Jokhang Temple and Potala Palace while spinning prayer wheels and chanting mantras.
2. In Tibet, there are four major sects of Buddhism.
At each of the monasteries travelers visit, they will have the opportunity to learn about the differences between the beliefs and see some of their traditions in practice. With so much to learn, a group's guide will be happy to answer questions.
3. Barley is one of Tibet's most important crops.
Many Tibetan foods are made from this special kind of barley that grows only in Tibet. Take a break from learning about Tibetan Buddhism to sample some momos and Tibetan noodle!
4. Tibet is the highest altitude region on earth.
With an average elevation of 4,900 meters, the landscape is dominated by breath taking mountainous terrain. Even the capital, Lhasa, lies at 3,600 meters. It is possible to go on multi day trekking adventures in the Himalayas or other high altitude regions of Tibet.
5. Tourism helps the average Tibetan person.
While subsistence agriculture dominates, the economy is dependent on tourism. Most Tibetan people are poor and quality job opportunities can be hard to come by. Buying souvenirs from a Tibetan, in Barkhor Bazaar for example, can mean a lot for a family that is going through hard times.
6. Since independent travel in Tibet is not possible, a properly registered travel agency will apply for the permits on a tour group's behalf. When planning a trip to Tibet, travelers need to be clear on Tibet permits for entry to Tibet.
Travel to Tibet is certain to be a unique and unforgettable experience. With its fascinating culture and diverse geography there is seldom a dull moment. Whether a travel group is looking to witness some of Earth's most incredible high altitude wonders or just looking to learn about Tibetan Buddhism, there is something for everyone. For the best possible experience it is advisable to use a travel agency that employs native Tibetan guides and arrange safe travels to all those who visit Tibet in 2013.
For more up-to-date information on how to set up a tour, contact a Tibet travel agency and they offer more newly updates on the vacation in Tibet. Devin Moore authored this article; Devin is a Tibet travel enthusiast who is training to become an econometrician. Get to know Devin Moore.