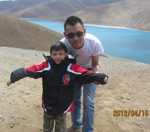 Tibet Local travel agency www.tibetctrip.com provides wonderful trips for families!
(PRWEB) May 20, 2013
Lhasa based Tibet travel agency Tibet Ctrip Travel Service-TCTS, has been working to make Tibet vacation more friendly to families. With the tourist infrastructure's rapid improvement these years, family travel in Tibet is easier and cheaper than ever before. TCTS has several years of Tibet travel organization experience serving families and understands their need for flexible tour schedule that lets them relax while travel staffs take care of all the details. For the 2013 travel season, TCTS's family Tibet tours programs have more new personal features.
Most Tibet family tours start in Lhasa; a local Tibetan travel guide and driver will pick up families from train station or the Lhasa Gonggar airport and accompany them to their hotel. Travelers are suggested to rest, relax, and drink much water to acclimatize well to the high altitude. In the next couple of days, families will visit the most famous attractions in Lhasa including Potala Palace, Jokhang Temple, Barkhor Streets and Sera Monastery. In just a few days exploring Lhasa, families will still have many opportunities to learn about Tibetan culture and see daily Tibetan life.
Families with flexible schedules can have an extensive tour of Tibet. Before booking a trip, travelers can talk with their local agency and decide what to see. Some travelers may be looking for an adventure while others may be interested in a culture-focused tour. Overland tours provide a large cross section of Tibet for families to see lots of landscapes. Many overland tours such as the tours to Mt. Everest or Yarlung Valley provide opportunities for families to learn about Tibetan culture and history at temples and monasteries while not missing out on the natural beauty.
A family Tibet tour is certain to leave unforgettable memories. Travelling with TCTS travel agency, families can relax and focus on the stunning natural scenery and fascinating local culture. A four or five day tour in Lhasa is fantastic for families on a tight schedule, while an overland tour in 7 to 10 days is perfect for those wanting an in-depth experience. Most tours allow for a flexible schedule so families can make stops for pictures and not feel exhausted while visiting monasteries and temples. With the best Tibet tour season right around the corner, family travelers are advised to plan early to fix their travel arrangement with good price before prices increase in the peak season.
Tibet Tour Agent TCTS Contact Address:
Post Address: Tibet Niwei International Travel Service, Co., Ltd (Niwei Building Room 302, No.13 North Linkuo Road, Lhasa, Tibet)
Tel/Fax (Lhasa area code):86-891-6342607, Mobile: 86-13628999610 (Tony), Post Code: 850000
Email: sales (at) tibetCtrip (dot) com, TibetCtrip (at) gmail (dot) com